Celebrate ONE YEAR OF FOXLAKE DUNDEE at their upcoming action-packed charity event
---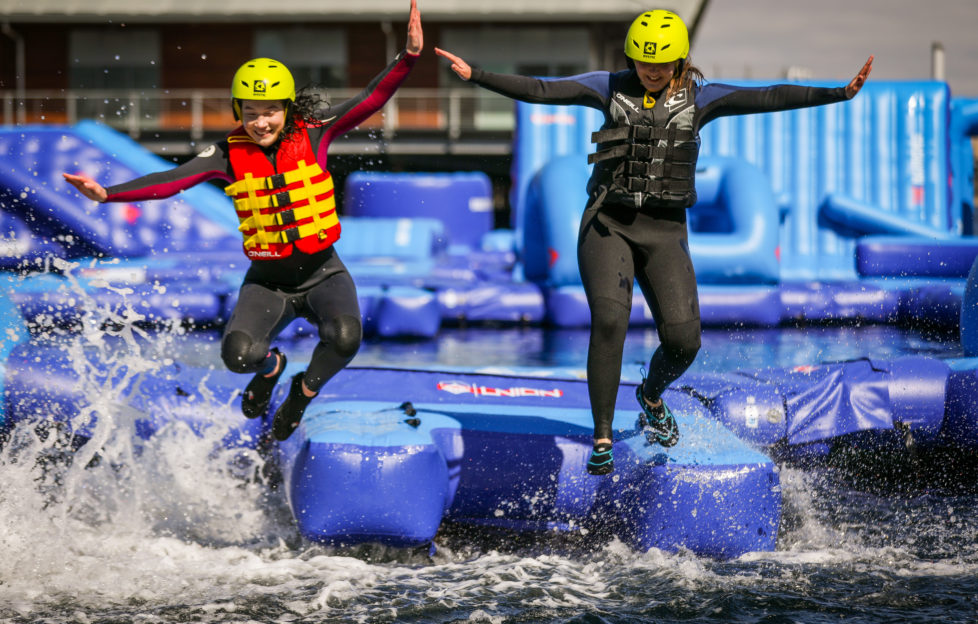 Photo: DCT Media
Most of us in Dundee know a thing or two about Foxlake by now.
The city's action-packed, unparalleled aqua park takes watersport to a whole new and exhilarating level.
With its recent upgrade, Foxlake is now even bigger and better than it was for its first season.
The 5 star VisitScotland attraction features a huge floating assault course with obstacles like the Moon Jump, Tire Run, Mount Rainer, monkey bars, and Ninja Jump.
This, combined with the many watersport activities that the park has to offer (think paddleboarding, wakeboarding, and ringo rides) has contributed to Foxlake being the BIGGEST aqua park across the whole of Scotland.
Over the last 12 months, the venue has welcomed 12,000 visitors, with staff numbers rising from 15 to 20 and 5 new vacancies opening.
Basically, the success of the park just keeps on growing.
SCOTLANDS BIGGEST AQUA PARK ??

( And its right in the middle of Dundee! )

With Summer only a few weeks away why not get booked in NOW.

For more information DM us or…
?- info@foxlakedundee.co.uk
?- 01382 214 484
⌨️- https://t.co/eETW9jtQ85 #visitScotland #VisitDundee pic.twitter.com/XiJhcW1Jca

— Foxlake Dundee (@FoxlakeDundee) June 20, 2019
To celebrate the 1st anniversary and success of the Aqua Park, Foxlake is hosting a family fun day THIS weekend (Sunday July 7).
The event, hosted in aid of Action for Children, will include free taster Ringo Rides, Stand Up Paddle Boarding, and SUP Yoga.
There will also be wakeboarding tasters priced at a discounted rate of £10 per session.
Full wakeboarding sessions are priced as normal (adult £20 & child £16) for one hour with 50% going to the charity. Booking is essential as spaces are limited.
Pro rider demonstrations will also take place throughout the day, alongside a DJ, a Wild Fire Pizzas pop up, a 'Big Air Wakeboard' competition PLUS various special deals and prizes.
Callum Mark, Director of Foxlake Dundee, said:
We are delighted to be expanding our Aqua Park on the waterfront of Dundee, which has been a huge hit with locals and tourists since we launched last year. To celebrate the anniversary and as a thank you to everyone who has supported us for the last year, we are hosting a special family fun day to raise funds for Action for Children. Whether visitors drop in during the day to take part in our activities or to watch the pro riders, it's guaranteed to be a great family fun day out and a fantastic opportunity to raise funds for an incredible charity at the same time.
GIVEAWAY
We have some very exciting giveaway opportunities coming up with Foxlake – so STAY TUNED.
FIND OUT MORE
Website: www.foxlakedundee.co.uk/
Address: Foxlake Dundee, West Victoria Dock Road, Dundee, DD1 3JP
Phone: 01382 214 484
Email: info@foxlakedundee.co.uk
Visit the official Foxlake Dundee website and Facebook page for more information about the park and fundraiser.
Follow us
Get in touch with SeeDundee on Facebook, Twitter, and Instagram.