SPONSORED: 24 Hours in Dundee — SeeDundee's ultimate guide to where to go and what to do
---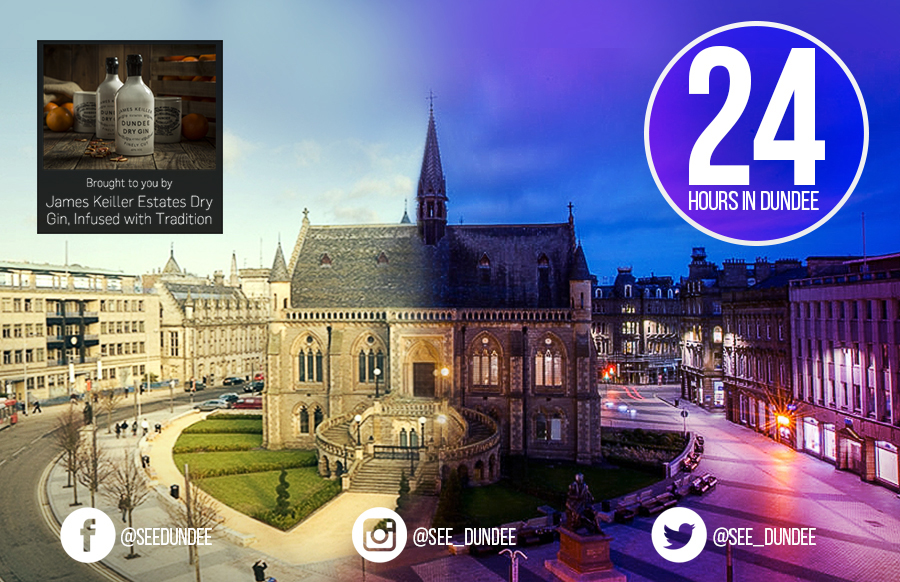 You've seen the headlines. You've made it to the UK's coolest little city. But you only have 24 hours to make the most of it.
Fear not: SeeDundee is here to help you enjoy the full Dundee experience with our dawn-til-dusk guide to 24 Hours in Dundee.
---
The itinerary
⊗ 8.30am: Slessor Gardens ⊗ 9am: breakfast at The White Goose ⊗ 10am: HMS Unicorn ⊗ 11am: Minnie and Desperate Dan statues ⊗ 11.30am: McManus Galleries ⊗ 1.30pm: lunch at Coffee & Co ⊗ 2.30pm: V&A Dundee ⊗ SHOPPING BREAK: Maisie & Mac OR Dundee Marmalade OR Dundee Cake OR James Keiller Estates Dundee Dry Gin ⊗ 4.30pm: Coffee at Little Things Cafe OR refuel with Scottish Craft at Brewdog ⊗ 6pm: Dark Dundee tour ⊗ 7pm: Dinner time at Steakhouse – Kobee OR The Gidi Grill OR Gallery 48 OR Innis & Gunn ⊗ 9pm: cocktails at 3 Session Street ⊗ 10pm: drinks at Market Bar OR The Giddy Goose ⊗ Midnight: Duke's Corner ⊗ 2.30am: Clark's Bakery ⊗ 3.30am: Sleeperz Hotel ⊗ GETTING AROUND: Tele Taxis
---
8.30am – walk around Slessor Gardens
Fill your morning with that fresh riverside air and take a stroll through Slessor Gardens. The open green space, which overlooks Dundee's picturesque waterfront, plays host to multiple events throughout the year and is a fantastic way to learn more about the City of Discovery. The garden's Discovery Walk celebrates Dundee's most influential figures such as biologist D'Arcy Thompson and philanthropist Mary Ann Baxter through a series of plaques – so you can appreciate the beauty of Dundee while soaking up its fascinating history. (jump back to itinerary)
9am – breakfast at The White Goose
The White Goose on Dock Street is a hit with foodies thanks to its fresh, flexible menu and relaxed approach. The eatery, overlooking the beautiful River Tay and V&A, offers guests a diverse breakfast menu (served all day long) with gluten free bread available. The menu includes organic poached eggs on toasted English muffin, creamy scrambled eggs, hummus and wilted spinach on sourdough, and a full cooked English breakfast. All ingredients are sourced locally, with delicious cakes made fresh and served every day. We guarantee that you and your party will be all set for 24 hours of fun in Dundee after stopping off here in the morning.
Find the White Goose on Facebook
10am – HMS Unicorn
Not every city can brag about having its own 200-year-old frigate dating back to the golden age of the Royal Navy. HMS Unicorn, sitting pretty at the waterfront, is the third oldest ship afloat in the world and the oldest ship in Scotland. Once armed with 46 guns, HMS Unicorn made its way to Dundee in 1873 where she served as the reserve training ship for the River Tay. Her unique design and history make her a must-see attraction on your visit to Dundee. Open to visitors, the vessel also hosts occasional gigs, shows and talks, and can be hired for events including wedding receptions.
11am – Minnie and Desperate Dan statues
Photo opportunity! Take a selfie or two with Dundee's iconic comic strip characters. Desperate Dan and Minnie the Minx, created and published in Dundee by DC Thomson, will take you right back to your childhood when you pay them a visit. Situated in Dundee City Square, Desperate Dan stands with his much-loved Dawg, and Minnie the Minx strikes a cheeky pose.
11.30am – McManus Galleries
A building as fascinating as the objects inside it, the McManus Galleries has been a striking feature of Dundee's Meadowside for 150 years. Officially opened in 1867 as the Albert Institute, it was once the grandest memorial to Queen Victoria's husband outside London. The Victorian Gothic-style building was designed by architect George Gilbert Scott. It is home to an unrivalled collection of historical artefacts and artworks which tell the story of Dundee and the city's impact on the wider world. Jam, jute and journalism form only a small part of what's on display in The McManus, which contains eight galleries across two floors. There is also a great cafe and shop onsite.
1.30pm – lunchtime at Coffee & Co
It's finally lunchtime. Located in the heart of the city centre on Reform Street, Coffee & Co is an independent coffee shop offering both sit-in and takeaway options. The popular cafe has far more than a high-quality selection of hot drinks. Its menu is also packed with homemade sandwiches, soup, and baked goods – all made using locally sourced produce. Providing free Wi-Fi and power points at most tables along with daily newspapers and relaxing background music – you can efficiently refuel yourself and your phone or laptop here before soaking up your afternoon in Dundee.
2.30pm – V&A Dundee
It's time to visit Scotland's first and only design museum. Designed by internationally renowned architect Kengo Kuma, the V&A Dundee sparked a phenomenal cultural renaissance when it opened in the city last year. The fascinating building, which has welcomed over 800,000 visitors from across the globe since opening, features a selection of permanent and changing exhibitions, as well as interactive design and music workshops, and events led by acclaimed artists and designers. With a high-end restaurant overlooking the River Tay, a bustling café and shop, and cracking views – this is one you can't miss.
---
Shopping break: Dundee keepsakes
You've made it all the way to sunny Dundee, so you're going to want something to remember it by. Here's our guide to where you can find that special something that will always remind you of your time in Dundee. Or continue your 24-hour journey
Maisie & Mac
Maisie & Mac is the perfect place to pick up a gift or a memento of your time in Dundee. Selling cards, prints, ceramics, throws and cushions, jewellery, decorative glass and woodwork, bags and scarves, kits and games, lights and clocks, books, soaps and candles, it specialises in the work of UK makers alongside quirky finds from elsewhere. Look out for the purple shop on the corner of Castle St and High St, close to City Square.
Dundee marmalade – special edition sold at The V&A
Mackays are a family-run business who have stayed true to their values of producing small authentic batches for a quality homemade taste. They are the only remaining producers of 'The Dundee Orange Marmalade' in the Dundee area – the home of marmalade. They take great pride in continuing to use authentic methods and producing their marmalade in the traditional way of using copper pans and whole oranges from Seville, Spain. They have a special edition glass jar with the label being designed by The V&A in Dundee. You can pick up your own special edition from the V&A gift shop when you visit there.
Dundee Cake – pick up from Fisher and Donaldson
Fisher and Donaldson's bakeries are very well-known in Scotland for their excellent pastries and cakes and their one on Whitehall Street is no different. The stunning shopfront will have your tastebuds going and can easily entice you inside. The bakery has been delighting locals for years with their delicious homemade cakes.  When in Dundee this is the place to get the Dundonian favourite, Dundee Cake. The cake was made famous in the early 1800s but has roots back to more than 350 years ago. A fruit cake which based on folklore was made for Mary Queen of Scots who wanted a fruit cake not made with cherries. Dundee cake is sweetened with almonds, orange and exotic nutmeg. Taste Dundee Cake the traditional way and pick up one from Fisher and Donaldson on your visit.
Fisher and Donaldson is online and on Facebook
James Keiller Estates Dundee Dry Gin
James Keiller Estates' Dundee Dry Gin is inspired by the story of Keiller's marmalade and promises a bottle "infused with tradition". The 50cl bottle takes inspiration from the original Keiller marmalade packaging and is expertly crafted from porcelain, emblazoned with a design that oozes simplicity and tradition. Flavoured with juniper, botanicals and Seville orange and balanced with a peppery spiciness, Dundee Dry Gin can be enjoyed either on the rocks or mixed with tonic.
Pick up a bottle today at the gift shop at Discovery Point or head here to order.
---
4.30pm – coffee at Little Things Cafe OR refuel with Scottish Craft at Brewdog
It's late afternoon and it's time for a decision: are you in the mood of coffee or beer?
With a contemporary, warm and inviting atmosphere, Little Things Cafe is a home from home for those in search of lunch, a sweet treat pick-me-up or the perfect afternoon blend. The independent coffee shop, newly opened and located on Reform Street, serves a variety of delicious food, irresistible sweet treats, and of course… proper coffee. It's the perfect place to sit back, relax, and watch the world go by while enjoying high-quality coffee, food from their brand new menu and home baking. With friendly staff who are expert baristas, stylish interiors, and fantastic service – Little Things isn't a coffee stop to miss when in Dundee.
Little Things Cafe is online and on Facebook
But if you're ready to get your night started early, and maybe work up a little Dutch courage for what's to follow at 6pm, it's time to hit Brewdog Dundee in Panmure Street. Featuring 18 taps of craft beers, including a regularly changing line-up of curated guest breweries, this is where Dundee's beer lovers gather to savour the best drinks in the coolest surroundings. Loved by students, office workers and a growing list of regulars, the atmosphere in Brewdog is always spot on. Grab your pint, sit down at a table and you'll soon be part of the conversation. Oh, and you can take your dog too.
6pm – Dark Dundee Tour
Tales of witches, murders, myths and disasters await those who are eager to hear about the dark side of Dundee's jaw-dropping history. Visit an area of 17th century Dundee, hidden from public view underneath the city and hear about the city's turbulent past, see an ancient cemetery and find out its secrets or take part in our scavenger hunts; there's plenty to choose from at DD Tours.
7pm – Dinnertime
It's finally dinnertime. Foodies love Dundee with its eclectic mix of dining choices. In a city graced by all cuisines, award-winning eateries and not to mention the number of new places opening all the time, you certainly won't go hungry. With so many to choose from, we have picked our favourites depending on what you fancy.
Try a T-Bone steak at Kobee
Kobee Steakhouse is a vibrant restaurant situated in the heart of Dundee's waterfront development. With beef locally sourced from high-end Angus farms, this is the spot for you if you're craving mouth-watering steak. Kobee's terrific menu, including a £34 T-bone steak, juicy Angus rump steak, ribeye steak, sirloin steak, and plenty more, is not the only appealing element of this restaurant. Kobee chefs prepare food before your very eyes – so you can watch as your order comes to life. The venue is friendly and relaxed, welcoming guests to enjoy high quality food at affordable prices.
Find Kobee Steakhouse online
Local favourite and Tripadvisor top-rated Gidi Grill
Gidi Grill, in Dundee's scenic City Quay area, offers diners a fantastic selection of finely charcoal-grilled meats fused with fresh West African and Caribbean spices. Often number one on TripAdvisor for Dundee restaurants, the venue has raving 5* reviews. It has an impressive set of lunch, dinner, and children's menus – all of which include steaks and burgers (skilfully cooked on a Josper grill) alongside salads, sea bass, pasta dishes, and much more. There really is something for everyone here. Whether it's a Gidi Grill flavoursome side, or a specially selected cut meat – don't wait to try out Dundee's only West Africa Caribbean restaurant.
Casual dining in a quirky environment at Gallery 48
This modern restaurant in the West End exhibits contemporary artwork and offers up imaginative tapas dishes, a handpicked selection of Spanish wines, and the best of the best gins. The versatile spaces offer diners the chance to eat from a diverse menu of authentic Spanish food and wine while taking in ground-breaking artwork by local and international creatives. Gallery 48 is not just a stylish restaurant, but also an innovative exhibition space showcasing a range of talent and creative discussion. If you fancy incredible culture mixed with delicious food, then this is the spot for you.
Beer and burgers at local brewhouse Innis & Gunn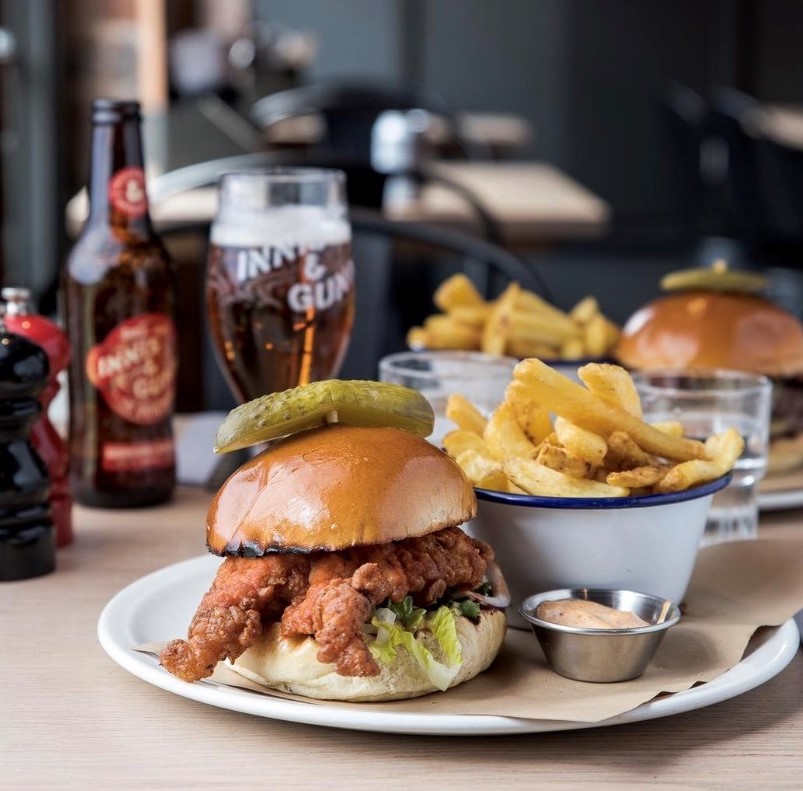 There's no spot better to get your burger fix than Innis & Gunn Dundee. The brewery, situated in the heart of the city centre, recently opened its brand new taproom. With ultra-Instagrammable neon signs, awesome shuffleboard tables, and 17 delicious craft beer taps to choose from – this is the place to sit down for a pint and a burger. The taproom's menu includes a diverse selection of hand-pressed Scotch beef burgers, chicken burgers, and veggie options. All burgers are produced by butchers Shaws Fine Meats, who make Innis & Gunn's beef patties fresh and in signature style. With artisan hot dogs and aged Scottish sirloin on the menu also, you can't miss dining in this trendy, totally reimagined hot-spot a stone's throw away from Dundee's vibrant nightlife.
Innis & Gunn Dundee is online and on Facebook
9pm – expertly made cocktails at 3 Session Street
Look for the innocuous door with the large No 3 stuck on it and you are there. Once inside the first thing that hits you is the contemporary, warm feel to the 3 Session Street bar; it's welcoming, and the bartenders add to it by making you feel right at home. Offering full table service through until the wee hours of 2am and serving food right up until 1am, all you need to do is grab a seat and relax whilst they do the rest. Whether you need guiding through the cocktail list, the wide range of spirits behind the bar you may never have seen before, or want to mix up something new; the staff are always on hand to help pick the perfect drink to enjoy in the stunning ambience of 3 Session Street.
10pm – A nightcap or a warm-up?
Dundee has an excellent selection of lively bars and pubs that suit all tastes and budgets. They are plenty to choose from but below are the places you should try first.
Market Bar – great entertainment, great sport, great food and great value
Fancy heading somewhere great value for a few drinks and a bite to eat? The Market is Dundee's popular premier bar with plenty of music and live sport to enjoy. The bar is fully stocked with an extensive gin menu, real ales and delicious cocktails. With open mic nights and acoustic nights, plus a live resident DJ on Friday and Saturday, this affordable spot offers the perfect mix of fantastic drinks and non-stop entertainment. The Market shows all live sport across 16 big screens, making it the ideal venue for all sporting event lovers. If you enjoy a great value night of music, dancing, eating, drinking, and sports (who doesn't?!) then you have to include this spot on your agenda.
The Giddy Goose – your classy wine bar
With its quirky interiors, an abundance of plants, creative cuisine menu, and so much more, this cosy spot is perfect if you're after sophisticated wine-drinking in a chilled-out and friendly atmosphere. The Giddy Goose specialises in ethically sourced, Bohemian-style wines, as well as stone-baked pizzas and delicious sharing platters. With welcoming staff members who certainly know a thing or two about the wine trade, you're in safe hands when it comes to sampling a glass (or bottle) of red or white. Situated on Dundee's bustling Perth Road, the restaurant is at the heart of Dundee's nightlife, so you won't have far to walk to your next adventure when you're all wined out.
Find the Giddy Goose on Facebook
12am – Duke's Corner is Dundee's best late-night hangout
It's midnight. The drinks are flowing, and you feel like hitting a dancefloor… but maybe not a crowded club? This former schoolhouse boasts one of the best atmospheres around. Open seven days, with a DJ playing until 2.30am Wednesday-Saturday, the excellent mix of music at Duke's Corner works whether you want to spend the night on the dancefloor or chilling out in the quieter snug area. With 24 different craft beers on offer, and great cocktails, there is always something new to try. This late-night hangout has been delighting punters for years with its buzzing yet relaxed atmosphere and you have to give it a go!
2.30am – Clark's Bakery is the late-night snack spot of your dreams
If you don't end up at Clark's 24-Hour Bakery at the end of your night out, did you even go out? For many Dundonians, it's the only way to end a terrific night out on the town. Famously known as the 24/7 belly heaven, Clark's offers a diverse selection of pies, hot filled rolls, pizzas, burgers, sweet treats, and plenty more. The much-loved local bakery even made the list of 'top drunk food' places in the UK in 2018, reaching number 6 out of a list of 40 illustrious locations. Clark's has a fine list of top-notch suppliers, including the likes of Fleming Howden, Bako Northern & Scotland, and Lomond Foods. The bakery is legendary among locals and tourists alike for its generous portions, affordable pricing, and 24-hour opening times.
Clark's 24-Hour Bakery is online and on Facebook
3.30am – bedtime at Sleeperz Hotel
You've had a long and fulfilling time in Dundee, and it's time to catch some well-needed Zzzzs. Featuring scenic views over the River Tay, Sleeperz Hotel Dundee is a 120-bedroom design-led hotel located directly above Dundee Railway Station in the city centre, and directly opposite the V&A Dundee. Rated 9.7 for a two-person trip on booking.com, guests can't get enough of this modern and stylish hotel, which sits a stone's throw away from all of Dundee's central attractions. Rooms at Sleeperz are air-conditioned, with free Wi-Fi and Sleepeezee mattresses. Each room has a private bathroom with a shower. The hotel is also equipped with a modern design lounge bar and restaurant with plush chairs and a vast selection of food and drinks – plus an all-day menu. Remember to book direct at  www.sleeperz.com/dundee for 10% off your booking purchase. It's the perfect location to rest in after 24 action-packed hours in the City of Discovery.
---
Getting around: Tele Taxis

Tele Taxis provide a 24-hour taxi service throughout Dundee and surrounding areas. They offer taxis for corporate businesses and the general public. The family-run business has built a loyal customer base over the years due to their reliable, prompt superior service. Make booking easy by downloading their app from Google Play or the App Store. They are also online and on Facebook.