SPONSORED: World Gin Day – 5 of the finest gins to tickle your taste-buds this year
---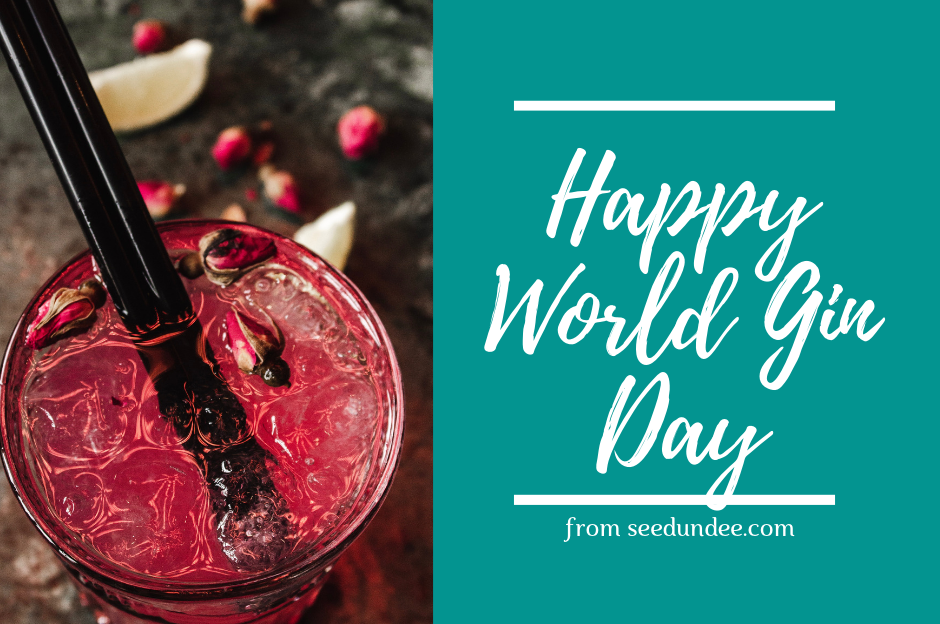 Photo: SeeDundee
World Gin Day (Saturday June 8) is a global extravaganza celebrating all things delectable gin, juniper berries, and fresh garnish.
Organised by Gin Monkey, the go-to gin swigger based in London, the day aims to bring folks from across the globe together to drink copious amounts of gin… in whichever form suits. Cocktails, neat, mixed – you name it, you drink it.
Are you a member of the gin loving community? Here's 5 fine gins to tickle your taste-buds on the big day.
1. The Gael Gin
Inspired by the internationally acclaimed Scottish fiddle tune 'The Gael', this signature Scots drink is five times distilled from malted barley using a blend of traditional botanicals and a hint of Scottish heather.
#GinADayMay day 27 – #botanicals
It's Monday, it's a bank holiday, it's #gintime #distinctlyscottishnotes #juniper #gin #maltedbarley #spirit #scottishheather pic.twitter.com/WnWfroW55M

— The Gael (@TheGaelGin) May 27, 2019
The result of this blend is a gin with a light citrus nose, following through with juniper, cardamom and a warm finish.
Distilled in Dumbarton by Strathleven Distillery, Gael Gin goes splendidly with a slice of orange, Mediterranean tonic and ice.
Buy here: www.thegael.co.uk
2. Valentia Premium Mediterranean Gin
Premium Valentia Gin began its life in the Sierra Nevada mountains in Granada (Spain) where the water is known for its exceptional purity and high quality.
Founded by Alfonzo Zapeter, the Fife-based Spanish distiller has drawn on his Spanish and Scottish connections to craft this superb gin.
New lower price on our website.

Premium Valentia Gin. Double distilled in small batches from sugar cane in a traditional copper pot still, adding botanicals and a final touch of Valencian citrus. pic.twitter.com/AFiT2eZrMp

— Crafty Connoisseur (@teamcrafty) August 7, 2018
The drink is double distilled in small batches from sugar cane in a traditional copper pot still, with added botanicals and a final touch of Valencian oranges.
Enjoy with a fresh Indian tonic or a cloudy lemonade.
Buy here: www.craftyconnoisseur.co.uk
3. Dundee Old Tom Honey and Spice Gin
A new addition to the Dundee Gin Company's range, this honey and spice gin carries a rich scent with a hint of underlying sweetness.
Bottled at a perfect 43% ABV, it offers a palate of classic botanicals balanced with slight sweetness.
Old Tom was named after the way it was dispensed in 18th and 19th Century London Gin Houses.
A plaque depicting a tom cat was hung on the wall and when a customer placed a coin on the cat's mouth they were poured a shot of gin from a tube under the cat's paws.
Plus – this gin is distilled in Dundee itself.
It's best enjoyed with ice, ginger beer and a large wedge of lime.
Buy here: www.craftyconnoisseur.co.uk
4. Selkie Blush Pink Gin Liqueur
This gin was launched in the last few weeks at the Edinburgh Juniper Festival.
Artisan small batch and handcrafted, Selkie Blush Pink is the 1st gin based liqueur made at Old Poison Distillery in Edinburgh.
A gin from Edinburgh for Edinburgh! We are proud to now stock the lovely Selkie Blush Pink Gin. Selling for just £29 when you buy with @craftyconnoisseur .

Log onto our website today https://t.co/Uo8Ia17peC#edinburgh #gin #ginliqueur #strawberry pic.twitter.com/fq0beRzr9y

— Crafty Connoisseur (@teamcrafty) June 1, 2019
It is crafted to balance the refreshing taste of Selkie with Jasmine pearls, Scottish strawberries and the freshness of Italian bergamot.
Best enjoyed on its own with fresh strawberries or you can add prosecco for that ultimate summer drink.
Buy here: www.craftyconnoisseur.co.uk
5. The Four Marys Bonny Bramble Gin
The Four Marys  (companions and ladies-in-waiting to Mary Queen of Scots) have inspired this series of expressions.
Thus Bonny Bramble has been distilled with fresh raspberry leaves locally foraged and infused with Scottish brambles.
A few weeks ago we gave you the chance to win some of this fine Four Marys Gin and demand has been huge ever since.

Hop on over to our website and order your bottle of Bonny Bramble today with Crafty.https://t.co/Uo8Ia17peC pic.twitter.com/mn9qoogUEy

— Crafty Connoisseur (@teamcrafty) May 29, 2019
Distilled in Linlithgow, It imparts a rounded, fresh fruity taste and aroma. This is not a liqueur but a full strength gin at 40% ABV.
Recommended serve – 1 measure of gin to 2-3 measures of a Elderflower tonic and garnished with brambles and raspberries. Perfect as a flavoured G&T or as the basis for a fruity cocktail or mixed with fizzy wine such as Prosecco to get a long summer drink.
Buy here: www.craftyconnoisseur.co.uk
SSFA Charity Gin Tasting
So – how can you make the most of World Gin Day in Dundee this year?
SSAFA are hosting a charity gin tasting event at Bonar Hall on Saturday afternoon and evening.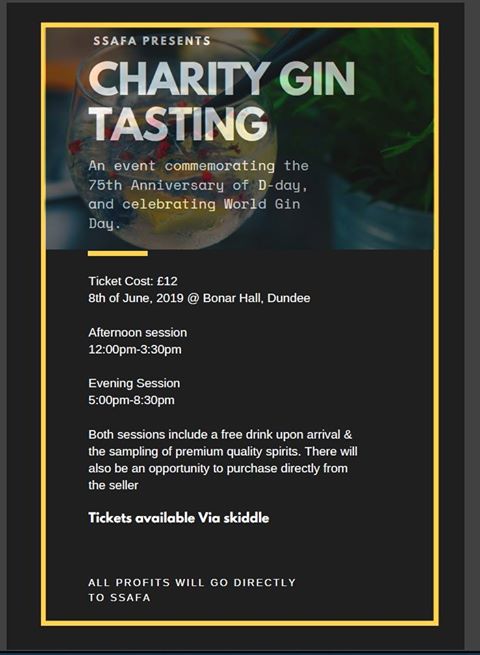 The eclectic mix of gins above are available to sample and purchase at the gin tasting.
The sessions will have around 16 local vendors, offering a wide range of premium quality products, with all profits going directly to SSAFA.
The Soldiers, Sailors, Airmen and Families Association (SSAFA) provides life long support to serving men and women, and additionally veterans, from the British Armed Forces, as well as their families and dependants.
BOOK TICKETS
Book your tickets today.
---
Have a FABULOUS World Gin Day.
Follow us
Get in touch with SeeDundee on Facebook, Twitter, and Instagram.