Soup Search: You have to stop at the Snack Stop
---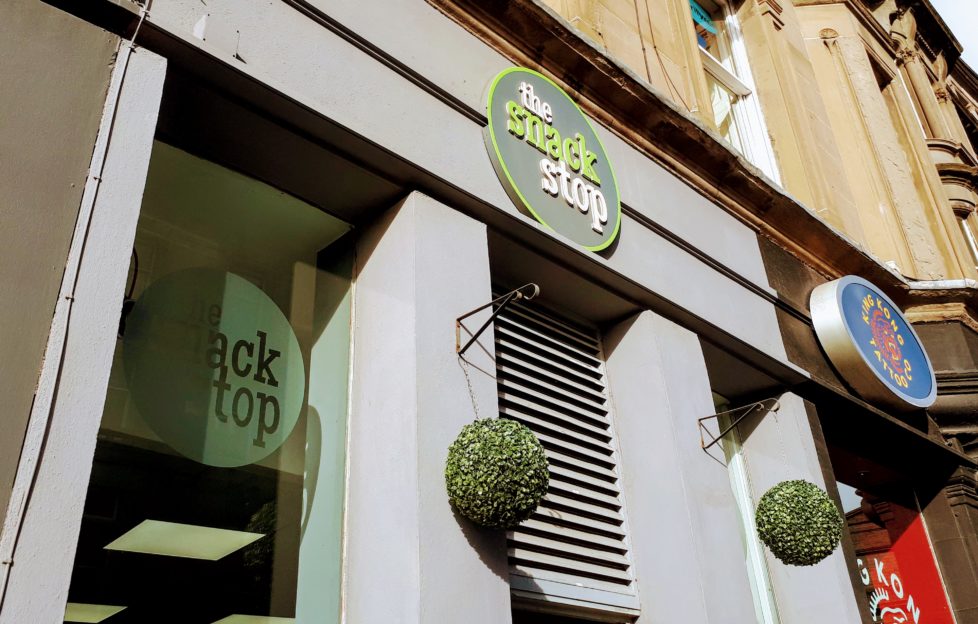 The Snack Stop in Whitehall Crescent. Photo: DCT Media
SeeDundee has launched its #SoupSearch — our bid to find the best places in Dundee to find a cup or bowl of the good stuff.
Up today is The Snack Stop in Whitehall Crescent.
---
"This is absolutely perfect. Why have anything other than soup for lunch?"
That was the thought running through my head as I tucked into a pea and ham combination from The Snack Stop. So you can safely assume I was pretty impressed.
This review actually comes courtesy of a SeeDundee reader recommendation. Despite it having been around for over three years, I hadn't visited the Snack Stop before David Vernon recommended it over on our Facebook, but it's now gone straight on to my favourites list.
The soup
David recommended the sweet potato, coconut and chilli soup and that sounds absolutely amazing. I. Must. Try. It. Unfortunately, it wasn't on the menu the day of my visit. However, it's good to know there is such a wide and changing choice and I'll definitely be checking out the line-up much more often from now on.
They're also good at posting the current options on their Facebook.
Two classics then, and I opted for good old pea and ham.
The taste
First things first, The Snack Stop passes the heat test. I usually take my soup back to the office but I decided to head in the other direction and enjoy some autumn sunshine outside the V&A.
The soup was still piping hot once I'd reached the waterfront. So far, so good. So how did it taste?
Thick. Wholesome. Warming. Delicious. That pretty much covers it.
There's really nothing I'd have wanted to change about it. The seasoning was bang on and it was just a perfect lunchtime snack.
As I enjoyed every last drop of this soup I berated myself as to why I so often take the unhealthy options at lunchtime.
People: soup is all we need!
Portion size
Much like your humble reviewer, The Snack Stop's soup comes in a shorter but fatter container than normal. But any fears I had that it might not add up to a full portion were unfounded. If anything, I think this was above the average for a takeaway soup.
I was also offered a lovely big buttered roll at no extra cost, so there are no complaints here.
Price
The Snack Stop also excels in this area. While it doesn't quite match the frankly giveaway price of £1.70 at Clark's Bakery, £2 was the price of a soup and a roll. That's one of the cheapest so far in our SoupSearch and represents brilliant value.
Service
The service was great. It's a tiny wee place so probably never gets too busy. They apologised for keeping me waiting but there was no need. I was in and out again in a few minutes.
I also noticed a nice little touch where they offer customers free use of an umbrella if the weather's not great. Those are surely never needed in #sunnydundee but is a sure sign that customer service is a priority.
Rating
The sunshine helped. And so did the rare chance to get away from the office and enjoy some waterfront views at lunchtime.
But the main reason The Snack Stop gets a top rating is that it offers delicious soup at a great price and with great service.
It's a 5/5 all day long.
More info
Find The Snack Stop on Facebook at: www.facebook.com/thesnackstopdundee
---
Share that soup
We need your help. We have a long list of places to check out for our #SoupSearch, but we suspect there are some hidden gems out there.
If you have a favourite soup stop in Dundee that others should know about, get in touch.