SPONSORED: Dr Noodles – just what the Doctor ordered
---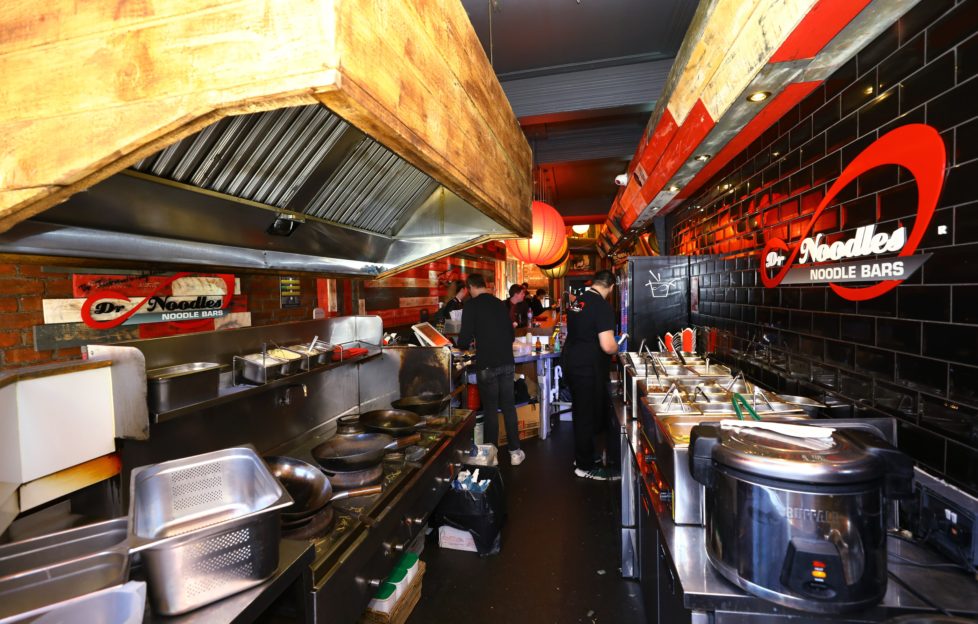 Photo: DCT Media.
Dr Noodles is a is an internationally acclaimed noodle bar, with venues in St Andrews, Aberdeen, Perth, Stirling, and of course, our wee city.
The trendy noodle bar's concept is simple.
Fresh, delicious food from the East, served fast, bursting with flavour, and at a terrific price.
What could be better?
The Dr Noodles way
If you've already been to Dr Noodles, you'll know – there's a way.
Step 1. Lucky visitors start by picking their box (small, regular, or kids).
Step 2. Choose your noodles or rice, and add extra veg for 50p more if you're feeling ultra healthy.
Step 3. You're nearly there! Beef, chicken, king prawn, or tofu? You decide.
Step 4. Lastly, choose your sauce from a selection of 15 different types. You can even add different sauces together if you're an experimental foodie.
Click here to see the easy menu for yourself.
Dundee's Dr Noodles
Dundee's Dr Noodles, true to the noodle bar's laid-back style, is the perfect combination of modern and quirky, with painted wooden panelling and black tiled walls, as well as diner-esque bar and table seating.
Although the venue appears small at first, it opens at the back to reveal its very own noodle garden, where you can sit out with friends and eat your favourite noods amidst twinkling fairy lights.
From chefs on display for you to watch your personalised meal be whipped up in no time, to freshly sourced and served ingredients, Dr Noodle's truly is the nation's favourite noodle spot.
And don't forget – you don't have to opt for the Dr Noodle's box, you can enjoy your delicious noods in sophisticated bowls as well.
Testimonials
Don't take our word for it! Here's what other folks had to say about their Dr Noodles experience.
I had @DrNoodlesDundee today and it's possibly the best thing that's happened this year. I waited too long.

— Christina Craven (@stinacraven) May 5, 2013
Dr. Noodles in Dundee is the best place ever! Buzzing for it to open up in Aberdeen!

— Chris Lammie (@chrislammie) February 13, 2013
Today is a peak Dr Noodles Mood day and it's taking all my energy to not grab a train to dundee for a single rice box

— natalie clayton (@ScarletCatalie) April 17, 2018
Looks like the noodle bar is in pretty high demand.
More information
Opening times: Monday-Saturday: 11am-10pm. Sunday: 12 noon-10pm.
Website: http://www.drnoodles.co.uk/
Address: 89 Nethergate, Dundee
Phone: 01382 322155
Social media
Follow Dr Noodles on socials.
Facebook: @DrNoodles
Twitter: @DrNoodleBar