Begin your Christmas countdown with this Saturday's Light Night event
---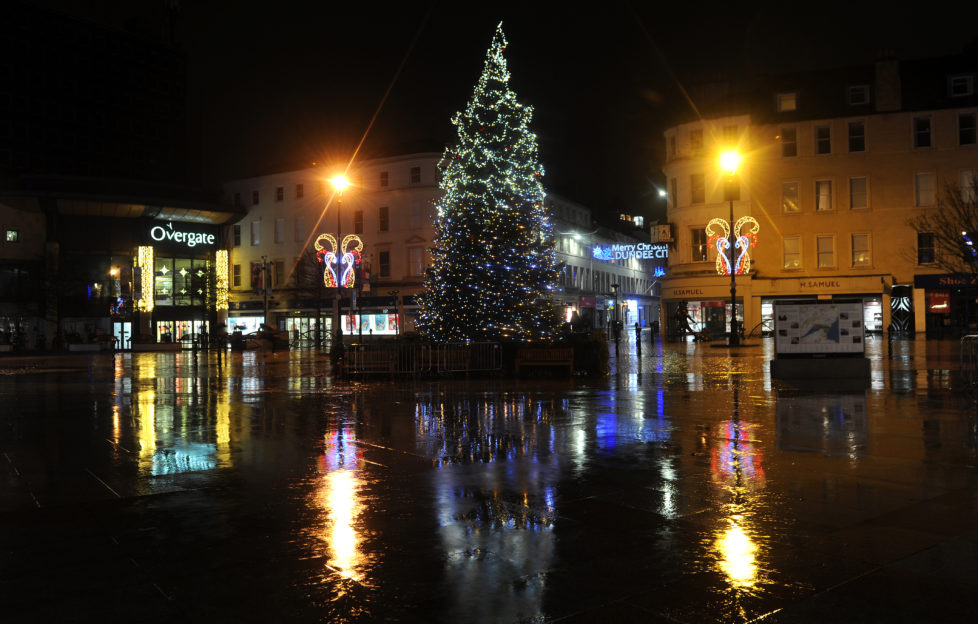 Dundee City Centre looking as festive as ever.
Christmas is coming, and it's almost socially acceptable to dive into all things mulled wine, mince pies, chestnuts, and most importantly…Christmas lights.
Dundee is bringing in the festive spirit relatively early this year (we can't complain!) and all the lights really are coming on now in the city centre.
This Saturday (November 17), Dundee Light Night is happening in the city's Albert Square and McManus area.
What better way to feel festive than to be surrounded by lit candles, hot chocolate, and twinkling lanterns? We can't think of much.
Albert Square
From 4pm, Albert Square will cater to the kids, so you can have a well-deserved break! Plus, what's better than seeing little ones get excited about the long-anticipated arrival of Santa?
During this time, the square will host a disco, a hot drinks stand (think hot chocolate for the wee ones, mulled wine for yourself) and a 'make a wish and light a candle' station. The aim is to get as many people as possible to light a candle by the wishing wall in Dundee, so that a stunning wall of light is created across the McManus building (sounds exquisite, right?).
High School of Dundee
At 6pm the torchlight procession begins, gathering at the High School of Dundee, and taking action at 6.30pm. But this isn't just any old torchlight procession with hand-held torches (although those are available, obviously). This year it includes unique lanterns, made by local people and community groups, all centred around the theme of wind and water (sounds ultra zen).
City Square Ceilidh
The beautiful evening will end on a Scottish high, with a ceilidh happening from 7pm-8.30pm in the City Square. This is free to attend and features live music from Cupar's renowned ceilidh band Skyrie!
For more information on this event, and how to get involved in lantern making workshops (a party trick you never thought you would master), check out the Dundee City Council's webpage. 
---
Looking for other things to do this weekend?
We have your Saturday evening covered, but what about Friday, Saturday and Sunday?!
Don't fret, we have some suggestions.
Revealing Characters Exhibition in McManus Galleries.
On Friday, from 10am onwards, you could check out the McManus' latest exhibition, featuring a diverse range of portraits and photography, including some pictures of The Beatles' performance in Dundee's Caird Hall in the sixties!
Afterwards, enjoy lunch somewhere atmospheric and fresh. Gallery 48, Tahini, and Rama Thai are sophisticated spots we have covered before, with deliciously authentic cuisine food.
On Saturday, pop down the Rabbit Hole (curiouser and curiouser) next to Dundee's popular Nursery Rhyme Clock, situated next to the Wellgate shopping centre.
Visual artists, AL and ALs installations (part of the NeoN Digital Art Festival) are bringing a unique, space-time installation to this site, which will make you feel like you've jumped down into Wonderland in no time. This artistic venture is for the World Premier of Al and Al's piece on the Immaculate Conception of Isaac Newton with the Birth of Absolute Time. If you feel like a bit of Lewis Carroll-esque escapism, this is the event for you.
Fancy more festive events this weekend?
If you are like us and are shamelessly embracing the Christmas spirit, you could always attend Dundee Christmas Fayre during the day on Saturday. Located at Balgay Parish Church, this event includes home-baking, crafts, handmade cards, gifts, a raffle, and lots more! Nothing beats wholesome, festive fun.
For more ideas this weekend (festive or not, we don't judge) check out our To Do section!
And most importantly, have a wonderful weekend from us at SeeDundee!