Calling all history buffs: Dundee is actually the oldest city in Scotland – here's why
---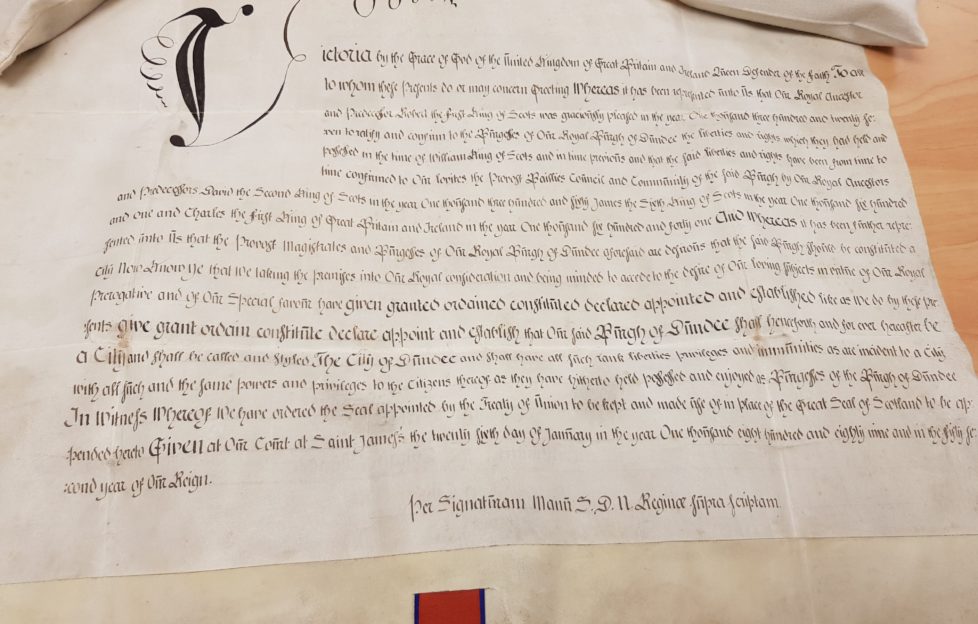 The Dundee city charter, signed by Queen Victoria (Photo: DCT Media).
Dundee's rich and brilliant history is continuously reinforced by one fascinating, archival document.
Research from local archivist Sarah Aitken reveals that our wee city is technically the oldest in Scotland.
The Charter
So, how can we make this claim?
Well – Dundee is the only place in Scotland to be granted city status through an official charter.
The exact date of Dundee's rise from burgh to city was documented on January 26 1889, and signed by Queen Victoria, officiating Dundee as the first ever documented city in Scotland.
What makes a Royal Burgh?
The date of Dundee's accession to 'Burgh' status is thought to be between 1191 and 1195.
Burghs were areas of religious significance, granted status by the crown, and developed around 'cathedrals or important places of trade.'
For more info on Burghs, click here. 
What makes a city a city?
Of course, this is a loaded question.
Is it a location's size, population, or urbanity?
Scotland is different from England and Wales in what constitutes a city.
Anywhere with a cathedral is classified as one down South, but according to Alice Aitken, Scotland didn't take to this idea.
For us, it's all about that charter.
Why was Dundee granted 'City' status?
It is likely that Dundee was granted 'City' status because of its growing population.
The Town Council also wanted a general status boost, along with the right to change the Provost into a Lord Provost.
---
We're impressed that Dundee is technically the oldest city in Scotland, with such a unique document representing its status.
Are you?!
Follow us on socials
To keep up-to-date with SeeDundee, follow us on Facebook, Twitter, and Instagram.