Dundee cake: What it is, what it tastes like, and where to buy it
---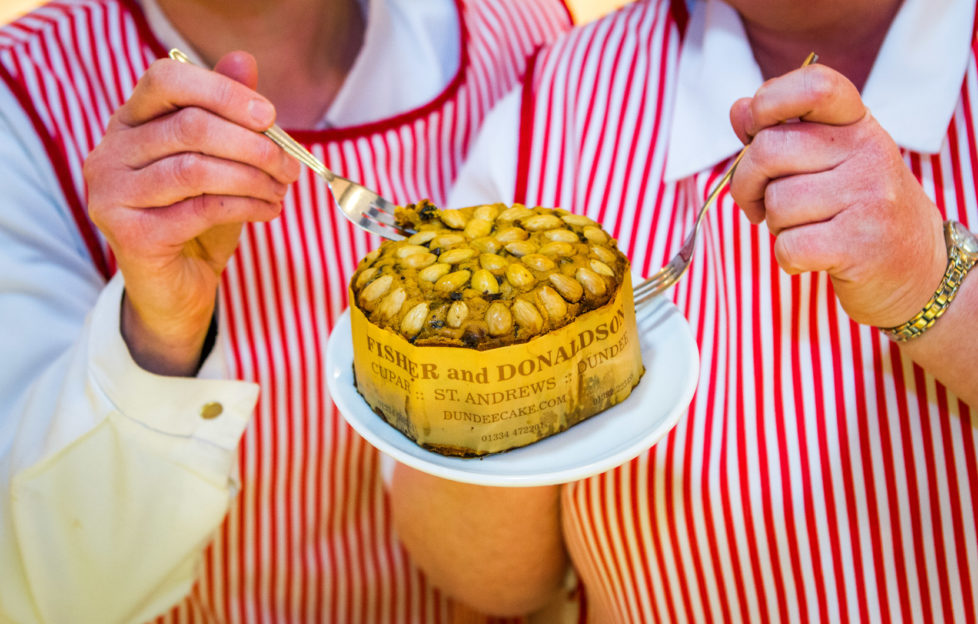 Staff members from Fisher and Donaldson (Dundee's popular bakery) all set to try some delicious Dundee cake (Photo: DCT Media).
You may have heard of Dundee cake.
Or, you may be completely oblivious as to why the heck Dundee has a cake, which just happens to be one of the most famous recipes in Scottish. baking. history.
Dundee cake history
Much like the tale of Dundee's marmalade discovery, that of Dundee cake traces back to the Keiller family (clearly a switched on and business minded pair) who lived in Dundee between the eighteenth and nineteenth century.
Janet Keiller, who was highly skilled when it came to all things confectionery (she even made marmalade spreadable by adding cut orange peel to the mix) is said to have invented the recipe for Dundee cake, alongside many other baking treats.
The invention came about casually in the Keiller kitchen, when Janet decided to add extra citrus peel from a batch of marmalade to her latest cake mix – and the crafty creation evolved from there.
The Recipe
The Dundee Cake is an eccentric and unexpected concoction of ingredients, including dried fruits, orange zest, lemon zest, and of course – the blanched almonds, which are placed on top of the cake (and included inside) in an unusually decorative pattern.
For the entire recipe, click here. 
Of course, all recipes are slightly different, and you can always do your own thing with it if you fancy.
Fisher & Donaldson
Where can you bag yourself a Dundee cake in Dundee itself?
Fisher & Donaldson, of course.
Fisher & Donaldson have provided Dundee with the best treats, breads, and of course Dundee cakes, for decades.
Inside Scoop
We spoke with Benjamin Milne, Fisher & Donaldson's Production Manager, about what Dundee Cake means to the city's much-loved bakery, and their secret to baking it so darn well.
Click here to find out more.