Dundee has made the National Geographic 2019 'must-see cool' list – we can't say we're surprised
---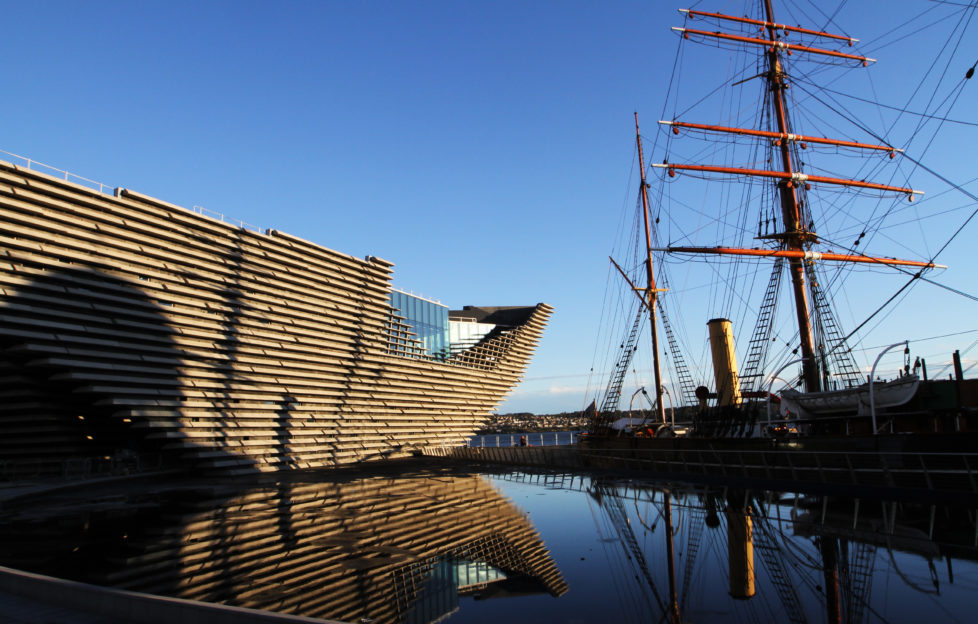 Dundee Waterfront, V&A, and the Discovery pictured on a bright and blue-skied day in Dundee. Nat Geo Traveller mention this area of the city as one of the central reasons behind its rising prestige (Photo: DCT Media).
Dundee has been listed by the National Geographic Traveller 2019 as one of the top 19 cities to visit in the world.
Featuring everything from futuristic cityscapes and modern architecture to pristine rainforest and rehabilitated wildlife, here are the 19 destinations making headlines in 2019. Welcome to the National Geographic Traveller (UK) Cool List #NGTCoolList2019 https://t.co/AKX2TohD95 pic.twitter.com/hv5YPiDXb2

— Nat Geo Traveller (UK) (@NatGeoTravelUK) December 4, 2018
The well-established publication's list of 19 includes exotic destinations such as Cambodia, Antarctica, Zimbabwe and Hong Kong.
As well as the transformative nature of the V&A, the National Geographic Traveller also mentioned Dundee's thriving Waterfront area, with its brand new train station, restaurants and bars (most of which can be found in our eat and drink section) as a central reason behind the city's increasing coolness.
In response to the fantastic news, VisitScotland regional director Caroline Warburton said:
2018 was the year that the world learnt what we have always known – Dundee is a must-visit destination – representing the very best of contemporary Scotland. Buoyed by this excellent news we look forward to continuing to work closely with industry to capitalise on the global interest in the city, encouraging visitors to stay longer and discover Dundee's world-class tourism offering.
National Geographic Traveller
For those few who don't who National Geographic Traveller are, the world-leading magazine is extremely popular, with a readership of 150,000 and circulation of 58,242.
As you can tell from the publication's huge Instagram following, it's a pretty reliable and respected source.
More publications
National Geographic Traveller are not the only publication to recently list Dundee as a must-see city among the best. The Wall Street Journal named Dundee the coolest city in Scotland, and one of the top go-to travel spots in 2018.
Other publications include: Vogue, Lonely Planet, Bloomberg, GQ, Conde Nast Traveller and the Los Angeles Times.
Basically, we are really cool.
---
Stay tuned on SeeDundee for more info on exciting publications about the city.
Follow us on socials
To keep up-to-date with our content, follow us on Facebook, Twitter, and Instagram.