Emeli Sande came to Dundee as part of a brand new BBC series – check out SeeDundee's interview with the Scots chart-topper
---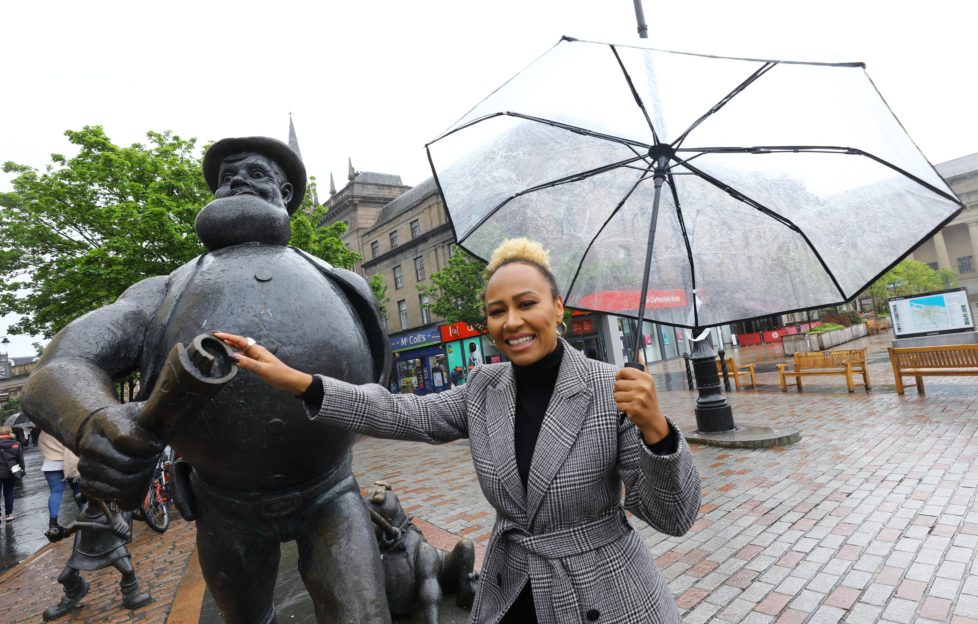 Photo: DCT Media
Today (May 30) SeeDundee got the inside scoop on Emeli Sande's visit to our wee city.
The Scots chart-topper, perhaps best known for her 2012 single 'Next To Me', was in Dundee as part of a brand new BBC series.
'Emeli Sande's Street Symphony' will follow the artist as she begins her journey from her home in Alford, Aberdeenshire, and heads to Inverness, Glasgow and Edinburgh, and of course, Dundee.
In search for outstanding street performers from each Scottish city, the chosen talents will then perform alongside Emeli and the BBC Scottish Symphony Orchestra next month.
Back in my home town Alford, Aberdeenshire ???????????????????????????? in the Bistro where I had my first summer job (My waitress skills…left a lot to be desired ??‍♀️) It's day 1 recording an awesome documentary with @BBCScotland called "Emeli's street symphony" ….very excited for you to see it! pic.twitter.com/hgjlsQY5oV

— Emeli Sande (@emelisande) May 28, 2019
Today's first lucky busker was Kit Storm, a 17 year old Carnoustie local who hoped to blow the streets of Dundee away with his impressive violin skills.
When asked about performing for Emeli, Kit told SeeDundee:
It was unusual and I have never done anything like that before. It was enjoyable and music is certainly something that I am interested in and I am going to study it at Glasgow University. It is a great opportunity and if I am lucky to be picked then it will be great.
We wanted to ask Emeli a little bit about what she thinks of Dundee herself. She said:
So far so good. I visited Grouchos this morning. The owner was super cool and it was so nice to see a record store here with physical records of music. I used to come here because my friend studied here. We would go out partying. Plus, I've performed here a few times in the past.
After a chat with Kit, Emeli visited Fast Eddie, Dundee's favourite harmonica player, who has become an iconic staple in the city centre and was playing away outside of Boots as always.
Emeli seemed to enjoy Fast Eddie's performance, and the busker himself was happy to see a large crowd surrounding him.
We asked Emeli a bit about the BBC series, the reason behind her travels to Dundee. She said:
It's been an exciting journey so far. Starting off in my hometown brought back a lot of memories and the initial hunger of artists was amazing to see. I'm looking forward to everything unfolding.
Emeli will source five talented buskers from Dundee and its surrounding area today.
Her third album, 'Real Life' will be released on June 21 and you can preorder it on i-tunes now.
Follow us
Get in touch with SeeDundee on Facebook, Twitter, and Instagram.