Oor Wullie's BIG Bucket Trail 2019: a sneak peak of the art trail's most colourful Oor Wullie's in the making so far
---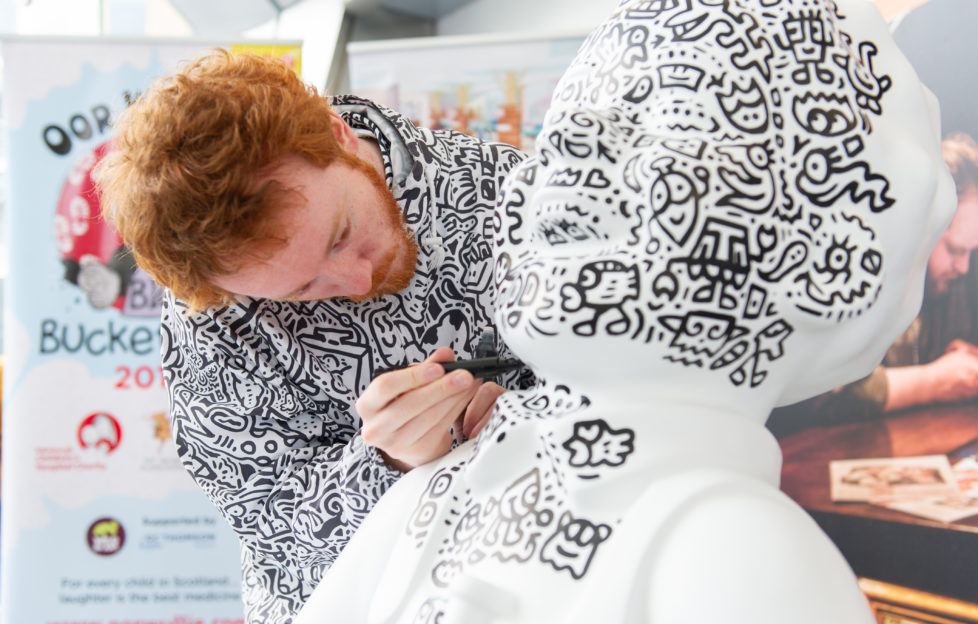 Mr Doodle doodling on an Oor Wullie statue in Dundee train station during the hugely succesful public charity art trail.
You will probably know by now that Oor Wullie's BIG Bucket Trail, the first ever nationwide public art trail to hit the Scottish city streets, is well on its way to becoming an unforgettable charity event this Summer.
The trail of 300+ Oor Wullies, painted by different artists from across Scotland and beyond, will follow through Glasgow, Inverness, Aberdeen and Dundee.
The trail will raise funds for Glasgow Children's Hospital Charity, the Archie Foundation, and Edinburgh Children's Hospital Charity – three superb children's charities.
Makeovers in action
So, how are the Oor Wullie's looking so far? And who's been in charge of giving them a fresh makeover?
Here's some preview pics of the Oor Wullie's in prep for this Summer's extravaganza.
I'm chuffed I can talk a bit more about my work with @OWBIGBucket! The task I've given myself is to cover my Oor Wullie with hundreds of portraits of all the incredible kids, staff, and families that come and go from the hospital everyday day ? pic.twitter.com/UJSWehS44s

— Neil Slorance (@neilslorance) April 18, 2019
Day six of Oor Wullie painting for the @OWBIGBucket ? Here's today's sneak peak!The details are well under way for the @McManusDundee Oor Wullie for @LACDundee to raise funds for @archietayside ? Not long to go until completion! #owbbt #wildinart #dundee #thearchiefoundation pic.twitter.com/ipajT0WOJY

— Sanna Dyker (@sannadyker) April 22, 2019
Here's a sneaky peak of a cheeky chap I've been painting this week for @OWBIGBucket @wildinart pic.twitter.com/rMWu62yalg

— Donna Newman (@Donnaedendesign) April 12, 2019
Who are the artists?
The trail's illustrious set of artists includes the likes of:
•Sanna Dyker, a Scottish Illustrator and museum assistant
•Neil Slorance, a comic illustrator based in Glasgow
•And Donna Newman, a mural artist working in Birmingham.
Sarah from @TheFriendMag has been busy getting to work on the Friend sculpture for @OWBIGBucket & @archietayside….here is a sneak peek…? Feeling a bit blue Wullie? ? #OWBBT pic.twitter.com/4BHNvOuVX0

— DC Thomson Media (@dct_media) April 22, 2019
Oh how we love a sneak peek timelapse! It's so exciting seeing the artists in action. Search the #OWBBT hashtag and follow our artists to see their progress! https://t.co/YJ3D6kWRXg

— Oor Wullie's BIG Bucket Trail (@OWBIGBucket) April 12, 2019
Absolutely thrilled that my design has been selected for @OWBIGBucket, raising funds for good causes, even if I am seeing spots! #owbbt pic.twitter.com/vjnAZbhOth

— Hilary Hart (@hilary63) April 17, 2019
Another sneak peek at the Oor Wullie im painting. Normal map time. #OWBBT #3d #uv #gamedev #wireframe @ninjakiwigames @DC_Thomson @wildinart @archietayside pic.twitter.com/i45xShOz8z

— Alastair Low (@Wallmasterr) April 15, 2019
Want to keep up with the Oor Wullie makeovers in the lead up to their debut?
Click here.
Follow us
Get in touch with SeeDundee on Facebook, Twitter, and Instagram.