People Of Dundee's Nightlife: Connor Liam Byrne
---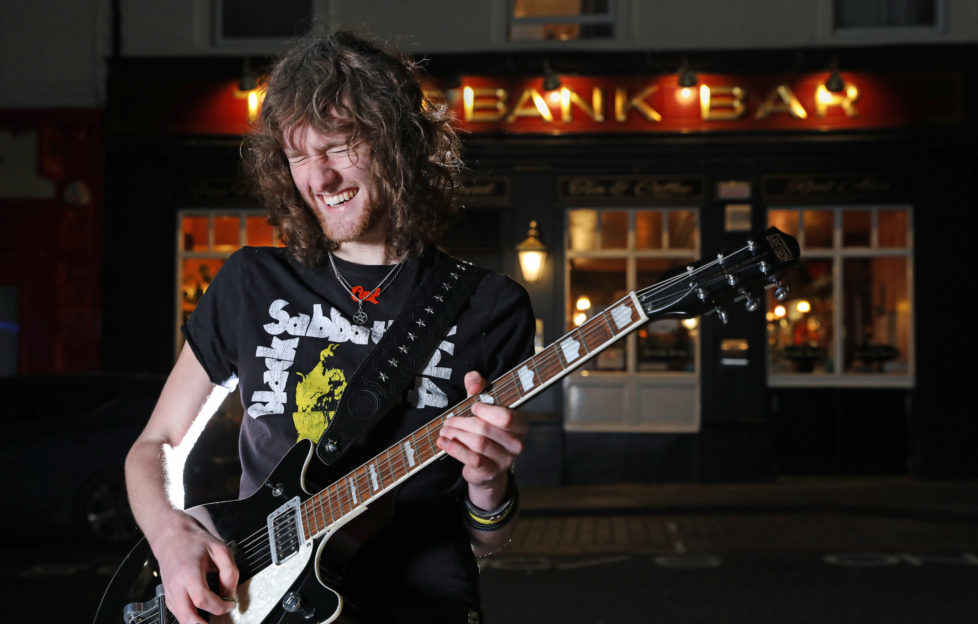 Connor Liam Byrne outside of The Bank Bar (Photo: DCT Media, Mhairi Edwards).
Connor Liam Byrne is a charming and likeable 19 year old from our wee city.
The musical whiz, whose profound passion for music and performance shined through from the onset, is both a smashing solo artist and lead vocalist/guitarist for the popular Dundee-based rock band, Love Train.
Last week, SeeDundee caught up with Connor for a much-loved Q&A. We chatted about the musician's thriving solo career, the successes of Love Train, and the best gig spots in Dundee.
The Inside Scoop
SeeDundee: So Connor, how did Love Train come together?
Connor: I've been gigging properly with cover bands and joining other musicians on stage since I was fourteen, so being part of a band seemed pretty natural to me. I already knew Love Train's two other band members before we started, and they were both keen to gig together when I brought up the idea to them. That was two years ago, and we've been gigging in Dundee since.
SeeDundee: Tell us a bit about your fellow band members.
Connor: Well, we've got Blair on drums. He's pretty much the best drummer in the whole world. Ever. Then we've got our phenomenal bass player, Jim. When the three of us first put a set together, things got pretty heavy. Black Sabbath type heavy. And we realised there and then that it was sort of a match made in heaven.
SeeDundee: So we take it you guys are pretty influenced by the heavy stuff?
Connor: I always go back to the heavy stuff with Love Train. Our biggest influences are Black Sabbath, T. Rex, Wolfmother, AC/DC, The Darkness… you get the jist, all that good fuzzy stuff. The name 'Love Train' is actually inspired by a Wolfmother song, so you could say that they are our biggest influence.
SeeDundee: When was your guys' first gig?
Connor: When I tuned 18 I organised an all-day festival for my birthday called Confest. All of my friends in bands came along and played as a birthday present. That was when Love Train performed for the first time, and it went down really well. Things kind of snowballed from there, and now we gig in lots of different spots in Dundee.
SeeDundee: Tell us a bit about how you got into music.
Connor: Well, I'm a guitarist first and foremost. I got super into playing the guitar and listening to music through AC/DC, who I've listened to religiously since the age of eight. My Dad would take me to open mic nights when I was only wee as well, and I would get up and perform with bands even then. That lead me to performing a load of solo acoustic gigs in places like Tonic, Art Bar, Clarks and The Bank Bar as a teen.
SeeDundee: So are you from a musical family?
Connor: Sort of. My Dad learnt a few chords on the guitar in the nineties, and always wanted me to be part of a music scene. He taught me a bit of guitar, but I'm mostly self-taught. I also learnt to play by watching AC/DC videos growing up. I was obsessed with music from such a young age – I can appreciate literally any music, from the heavy stuff, to artists like Ellie Goulding and Kate Bush.
SeeDundee: What's a typical performance like for you?
Connor: When I'm performing solo, I like to do covers and tributes, although I also write my own music – it basically varies. If I do a Love Train gig, it'll be whichever set we put together, and it normally lasts for about two hours. To get mentally prepared before a performance I'll watch a live Wolfmother gig, of course. I also love to get completely glammed up before going on stage too.
SeeDundee: Please tell us more about your glam routine.
Connor: It just gives me so much confidence! I got into glam because I wanted to personify Marc Bolan, my absolute idol and the lead singer of T. Rex. His dress sense was all about the glitter and satins, so I try to personify that. I wear full eye make-up, cover myself with glitter everywhere, and have my hair down and curly. I also love wearing flared trousers a lot, and big shoes.
SeeDundee: We know you've performed a lot at the The Bank Bar – tell us more.
Connor: Since I was sixteen, I've played a load of gigs in The Bank Bar on a freelance basis, and I currently work there as a bartender. I play in gigs all about the place in Dundee, to be fair. But you're likely to find me or Love Train performing a set at Bank, because it's got such a buzzing atmosphere.
SeeDundee: So you're a fan of the spot?
Connor: I love it. It's the people that make it what it is. Everyone knows everyone, and it's always totally mobbed. There's so many locals. People are dead chatty and nobody gets any bother. It feels safe there, and the people always respond so well to Love Train's gigs, because they know us.
SeeDundee: Awesome! Lastly, what do you think of Dundee's nightlife in general?
Connor: Dundee's entertainment scene is massively on the up, and I think that's down to the local music scene growing and growing. There's so many upcoming musicians and artists keeping the nightlife here alive. Stuff really is happening, more than people even realise. I mean, there's plenty of new coffee shops opening up in Dundee, and that always means something…
People of Dundee's Nightlife
It was a pleasure chatting with Connor about his experiences as a solo artist and in Love Train, as well as his cracking performances across different areas in our wee city.
To keep following SeeDundee's 'People of Dundee's Nightlife' series, click here.
The Bank Bar
Address:  7/9 Union St, Dundee DD1 4BN
Contact: 01382 205037
Facebook: @thebankbardundee
If you fancy heading along to The Bank Bar to see Love Train, check out their Facebook page for updates on upcoming gigs.
Follow us
Get in touch with SeeDundee on Facebook, Twitter, and Instagram.