People of Dundee's Nightlife: Wendy Ogilvie
---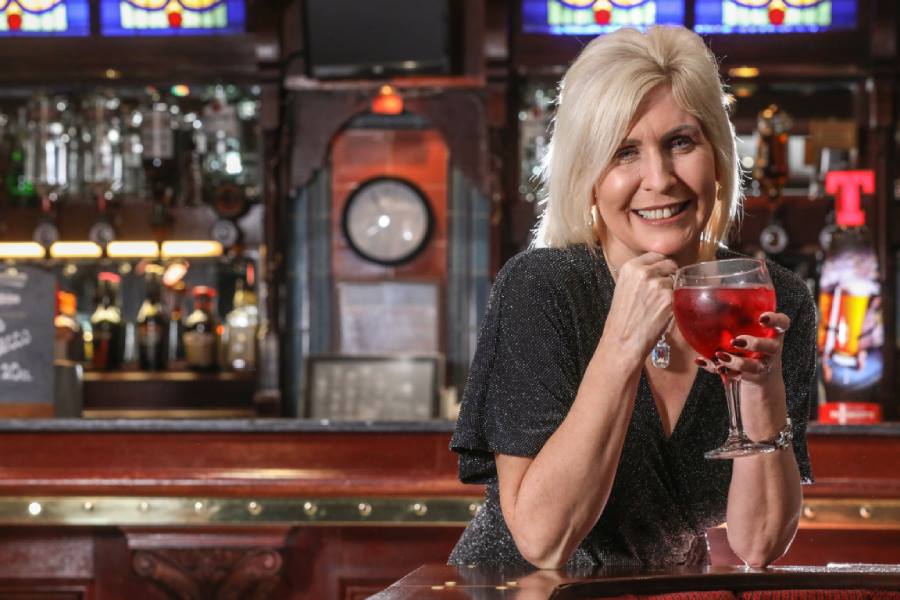 Photo: Mhairi Edwards, DCT Media
Wendy Ogilvie is a loyal patron of Dundee's popular Fairmuir Social Club.
The glamorous 55 year old, born and bred in Douglas, has attended the club every weekend for nearly fifteen years.
From rekindling the spark in an old relationship, to finding her closest friends yet, Wendy has Fairmuir to thank for some fantastic life experiences.
SeeDundee caught up with the charismatic Dundonian for a good ol' chinwag recently – here's what we got to chatting about.
SeeDundee: So Wendy, how did you end up going to the Fairmuir as a regular?
I used to go with an old friend on the odd occasion, for a birthday, or if we were feeling extra fancy. We ended up meeting a group of four other women there and spending time with them. After a while, one of the women from the group suggested we all starting go out together, and it became a regular thing.
SeeDundee: Lovely! And do you still attend Fairmuir with the same group of women?
We've attended the club together every Friday for the last eight years. And our friendship goes further than that. Now, we go on holidays together, they were all present at my wedding, and we're currently organising another holiday for next year.
SeeDundee: We know that you rekindled a relationship with your now husband at the Fairmuir – tell us how this happened?
Well, I met my now husband Brian way way back on a blind date. I was only seventeen at the time, and we went for afternoon tea, which was organised by my auntie. We didn't speak again after this – we were so young. Then, thirty three years later we met again… at the Fairmuir. He pretended not to recognise me at first, then he admitted that he did! And the rest is history.
SeeDundee: Amazing. And you also have a friend who met her husband at the Fairmuir? Seems like quite the romantic spot!
Yes! My good friend met her man there for the first time and they got married three years ago, so now we all go out together sometimes as a four. And they still go every week themselves. It seems to be the place to be to find love.
SeeDundee: What's a typical night at the club like?
There's a lot of different things for people of all ages to enjoy. There's live entertainment, cabaret nights, charity nights, bingo, live music. A psychic is even coming next week! If you get hungry, there's a kitchen where you can order lovely pub grub. Fairmuir closes at quarter to twelve, so it's not the latest of nights, but you can easily spend four or five hours in there if you arrive early in the evening. The venue is split into a bar and a lounge. The lounge is where you can dance and enjoy entertainment, the bar is where you can watch football or play darts. That being said, there's bars in both parts.
SeeDundee: What genre of live music plays at the venue?
All different genres. Sometimes bands are local, but other times they come from all over Scotland. I even found my wedding band at the Fairmuir! Their live music is fantastic.
SeeDundee: How would you describe the atmosphere at Fairmuir?
The atmosphere is fantastic. I would give it a 10/10. There's so many regulars, but you also get new crowds too, on hen nights and the like. You always feels safe as well – there's taxis outside the front door waiting for you when you want to head home, and decent security, so you know there won't be any trouble.
SeeDundee: What would you say to people who think that social clubs are exclusive for older people?
Maybe social clubs used to be specifically targeted to older people, but now the age group ranges from younger folks, in their early twenties, to people who are in their eighties. It's a completely mixed bag, because there's something for everyone to enjoy. I would recommend it to anyone, of any age.
SeeDundee: And lastly, what do you think of Dundee's nightlife?
It's getting better and better, and there's some for everyone to enjoy. From night clubs, to social clubs, to bars, more and more things keep opening up. I'm sort of past the going out in town stage, but that's why I love Fairmuir so much.
People of Dundee's Nightlife
It was a pleasure chatting with Wendy about the Fairmuir Social Club.
To keep following SeeDundee's 'People of Dundee's Nightlife' series, click here.
Fairmuir
Address: 17 Balgray St, Dundee DD3 8HL
Click here for more information about the venue.
Follow us
Get in touch with SeeDundee on Facebook, Twitter, and Instagram.