SPONSORED: Ready to make the most of National Pizza Day this weekend? Here are 4 of the tastiest pizza spots in Dundee
---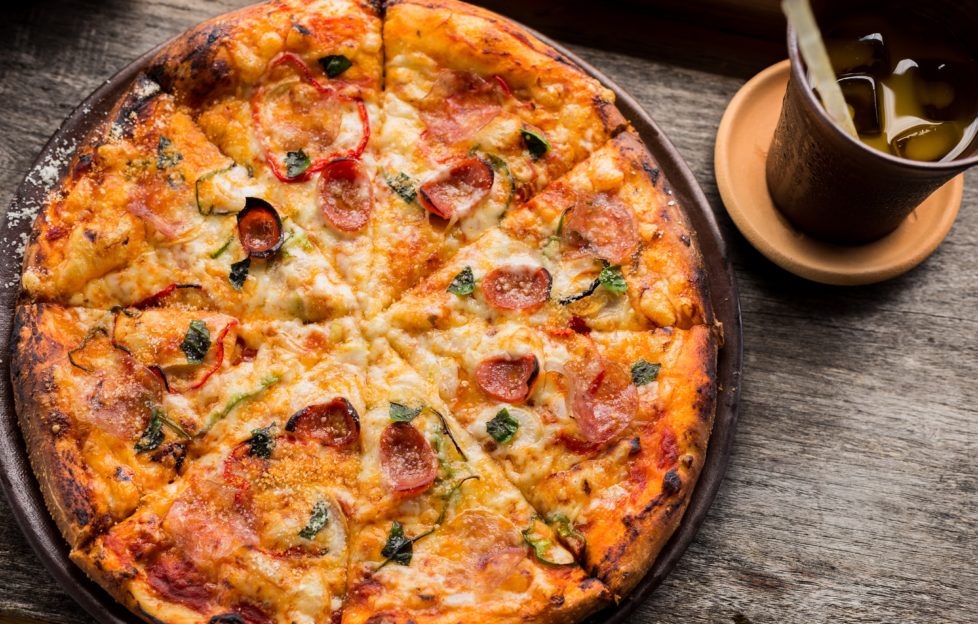 Photo: Unsplash
Your trusty friends at SeeDundee would like to remind you fine lot that Saturday, February 9 is… wait for it… NATIONAL PIZZA DAY.
Yup, a designated date celebrating one's over-indulgence of stuffed garlic crusts, layers upon layers of greasy toppings, and of course – cheese… all. the. darn. cheese.
We thought we'd better observe this national day with great pride and devotion, in sharing with you some of the most scrumptious pizza spots in the city.
Without further ado, here's a list of the cheesy havens themselves.
Frankies Fish Stack
Frankies Fish Stack isn't only for mouthwatering fish and chips.
The flourishing family run business also offer delicious, high quality pizzas, all made with freshly baked dough and served oozing with cheese.
With endless toppings to pick and choose from, even fussy pizza eaters will have a breeze.
Frankies Fish Stack also offers plenty of foodie offers and munchie boxes to settle your pizza cravings. Click here to read their lunchtime specials and meal deals.
To see the full Frankies menu, click here. 
The shack is currently offering a 'family feast' deal for £20, which includes a 1 x 16″ pizza with any two toppings (treat yourself on national pizza day, go on), a large portion of chips, a big bottle of juice, and even more.
Download the 'Frankies Fish Shack' app on your app store to keep up with all their fantastic offers.
More info
Address: 65 Balfield Rd, Dundee DD3 6AG
Contact: 01382 825231
Facebook: @frankiesfishshack
---
Charlie Kahn's
Another lesser known gem for pizza is Charlie Kahn's.
Yes, the Indian takeaway is highly esteemed for its freshly grilled meats and spicy curry dishes, but it also has an impressive selection of tasty pizzas and calzones.
From spicy mince pizza, to Hawaiian, to Texas BBQ, to good old fashioned meat feast, you won't be stuck for choice. Check out their diverse pizza menu here. 
Of course, you can also create your own toppings, so never fear if the menu isn't suited exactly to what you fancy.
For Charlie Khan's full takeaway menu, click here. 
More info
Address: 93 Charleston Dr, Dundee DD2 2HB
Contact: 01382 640199
Facebook: @charliekhanz
---
Domino's
We couldn't celebrate national pizza day without mentioning Domino's, now could we?
The nation's favourite when hungover (or completely not hungover, to be honest) Domino's Dundee, as most of us know, offers an excellent selection of pizza flavours, all made fresh and in a range of sizes – so you can enjoy a snack sized Domino's if you feel like it.
To check out Domino's current deals, click here. 
It's new, it's delicious, it's under 650 calories… It's our new Delight Range. Order now: https://t.co/ML0Rkvfn3N pic.twitter.com/1PFNx9Xyb3

— Domino's Pizza UK (@Dominos_UK) January 4, 2019
To have a look at their regular menu, click here. 
Did you know
Douglasfield Domino's have a sit-in eatery, so you can enjoy your favourite Domino's pizza and sides (always sides) like never before.
Instead of kicking back with your veggie supreme in jammies on the sofa, make a night of it!
More info
Address: 3 Douglasfield, Douglas Rd, Dundee DD4 7SH
Contact:  01382 505090
Socials
Facebook: @Domino'sPizzaDundee
Instagram: @dominosdundee
Twitter: @DominosDundee
---
The Giddy Goose
The Giddy Goose is a bohemian yet sophisticated Italian diner and pizza bar on Perth Road.
It offers a vast selection of delicious pizzas, with vegan and veggie options available.
The restaurant also serves 'pizzas of the day' – so there's always unique toppings (think beetroot, feta and rocket as an example) to choose from.
To see what happy customers have to say about The Giddy Goose, click here. 
The restaurant also offer plenty of offers and discounts, so keep your eyes peeled on their socials.
More info
Address: Perth Rd, Dundee DD1 4LN
Contact: 01382 520766
Socials
Facebook: @TheGiddyGooseDundee
Instagram: @thegiddygoosedundee
---
Whichever spot you choose to celebrate national pizza day with (and we certainly hope you celebrate) SeeDundee wish you the cheesiest of cheese filled days.
Follow us
Get in touch with SeeDundee (tell us if you actually like pineapple on your pizza) via Facebook, Twitter, and Instagram.