SPONSORED: This weekend, Celebrate the DCA's 20th Birthday with their choc-a-block list of phenomenal events
---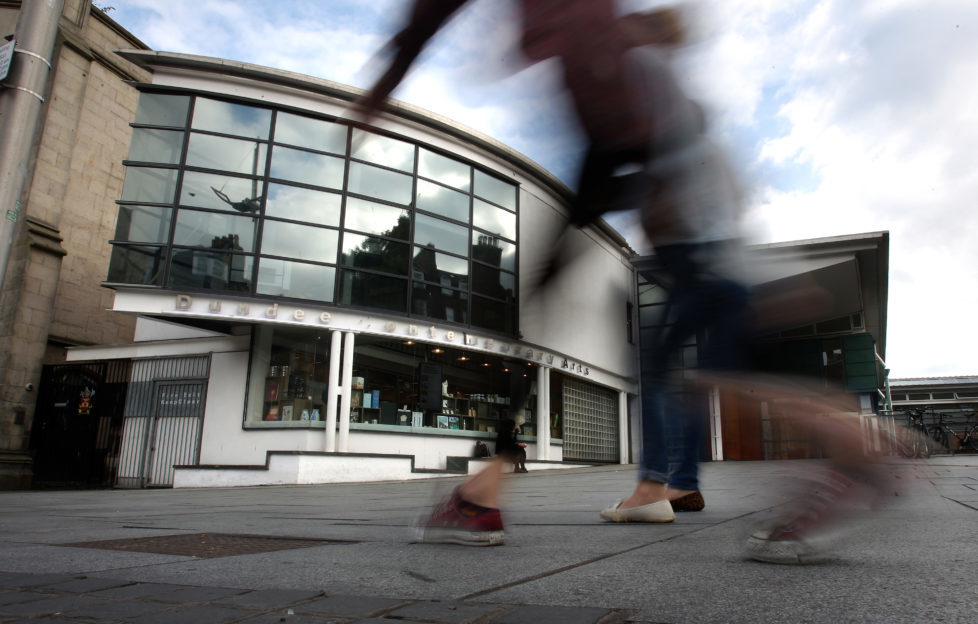 The Dundee Contemporary Arts, a cultural haven in the centre of our wee city, turns 20 this year (Photo: DCT Media).
SeeDundee mentioned recently that the DCA turns a whopping 20 years old this year.
Yup. That's two whole decades of cultural magic at the fingertips of lucky Dundee locals and visitors alike.
Of course, Dundee's only independent cinema and arts centre weren't going to let this milestone pass by without a celebration.
So, they've put together an extensive list of free exhibitions and exclusively priced screenings for you lot to soak up this weekend (and for the remainder of the year).
Whether you're with a group of friends or taking the kiddies along too, there's something for everyone to enjoy.
Without further ado, let's talk about this weekend's exciting agenda.
Screenings
Screenings this weekend, and throughout the year-long celebratory events programme, will represent the DCA's screening highlights across the past 20 years.
Having always screened the boldest and most brilliant films from a mix of different eras, this latest list will not disappoint.
Over the next week, Dundee Culture will be celebrating the @DCAdundee's 20th anniversary!

The DCA is considered to be the first major breakthrough into Dundee's creative & cultural era opening up in March 1999. The DCA has been a huge asset to the city!#DCA20 #HappyBirthdayDCA pic.twitter.com/8jW8wFSIF0

— Dundee Culture (@DundeeCulture) March 11, 2019
Certain screening tickets will be priced at the original price they were set at twenty years ago, so you've got some bargains in store for you.
For this month's screening list and to check out screenings in the near-future, click here. 
Have your say
You lot can also have your say on the DCA's year-long birthday programme.
Have a favourite film from the past 20 years that you'd like to be screened?
Send the DCA Twitter page your suggestions at #helloDCA20.
Jonah's Hill's exclusive debut
On the eve of its 20th birthday, the DCA will preview 'Mid90's', Jonah Hill's first ever creative venture as a writer-director, long before it's set to be shown in cinemas.
The coming-of-age film explores the life of a young working-class boy in LA, and will include many of Hill's much-loved artistic tropes.
To find out more about screening times for 'Mid90s', click here. 
---
Now, on to the impressive selection of entirely free exhibitions available this weekend.
State of Print Exhibition
Immerse yourself in this highly interactive artist led nation, featuring a makeshift state built with ink and recycled cardboard… sounds pretty incredible right?
This creative world has actual border control, new money, maps, laws, and national anthems.
When: Friday March 15 – 11:00 – 16:00. Saturday March 16: 10:00 – 17: 00.
Family Print Lab: Print It
This is a creative space for families to drop in and get suitably messy with an abundance of different materials.
From stamps, gelli plates, screens, lino, etching, plants, objects and hands – it's the perfect exhibition to take the kids to.
When: Saturday March 16 – 10:00 – 17:00.
DCA Print Studio Tasters
Take part in drop-in taster sessions across the weekend, focusing on traditional print making techniques.
Expect Japanese woodblock printing, Takuhon and Intaglio printing!
When: Saturday March 15: 11:00 – 17:00. Sunday March 17: 11:00 – 16:00. 
Projection Booth Tour
Enjoy an exclusive behind the scenes tour of the DCA's incredible projection booth with Chief Projectionist Ian Banks.
Banks has been with the DCA since day one, keeping the projectors in excellent running order at all times. This is a chance to meet with members of the DCA staff who make your cinema experience the best of the best.
When: Saturday March 16: 12:00 and 14:00.
---
This is just four of the many free exhibitions all set to blow you away over the course of this weekend.
To read more about other exhibitions, click here.
More about the DCA
Website: www.dca.org.uk
Address: Dundee Contemporary Arts, 152 Nethergate, Dundee, DD1 4DY
Phone: 01382 432 444
Email: dca@dca.org.uk
Follow the DCA
Facebook: @DCA. Dundee
Twitter: @DCAdundee
Instagram: @dcadundee
---
Lastly, we at SeeDundee would like to wish the DCA a very happy 20th birthday.
Follow us
We'll be joining in on the birthday celebrations this weekend, so keep an eye out on our Facebook, Twitter, and Instagram.