Thanks for accepting me as a Groucho's person — a personal tribute to legendary music shop owner Breeks Brodie
---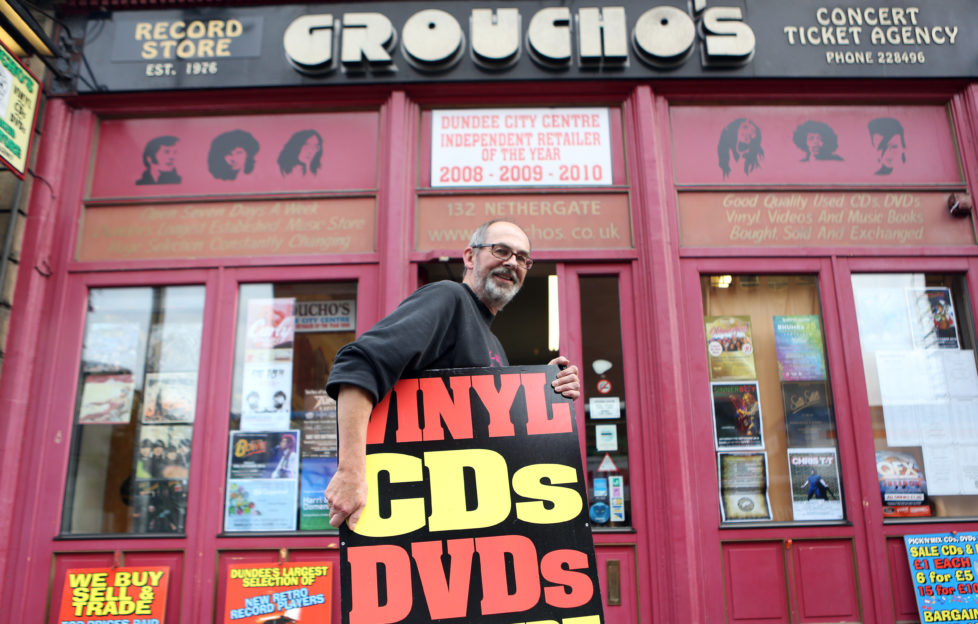 Alastair 'Breeks' Brodie outside the shop he built into a Dundee icon.
Alastair 'Breeks' Brodie, the owner of legendary Dundee music shop Groucho's, has died at the age of 65. Here, former employee Graeme Ogston pays a personal tribute to man who is being mourned by music fans across Dundee, Scotland and beyond.
---
I'll miss the famous Breeks' summons. Familiar to any Groucho's regular, the boss man would wave you through to his office in the back shop and swing towards you in his leather chair, proferring a rare Beach Boys single or piece of pop ephemera.
"Ah Graeme," he'd enthuse. "You'll appreciate this." He was always right.
Like many, I first saw Breeks in the early 80s in the first Perth Road shop but got to know him more through that decade and into the 90s, as Groucho's donated the coveted first prize of the legendary Westport Bar pop quiz, and ultimately working in the shop as a scowling music connoisseur/snob for six years.
Breeks didn't do job interviews, you just had to be a "Groucho's person" and I'm glad I cut the mustard. I'd have missed some good memories otherwise.
I'll never forget the look on his face when one of his heroes, Peter Green from Fleetwood Mac, came into the shop. Or when a job-lot of cack vinyl yielded a Jimi Hendrix (another hero) rarity that even then was worth £600 and was the first time he had ever seen a copy.
"Is that what I think it is?", I asked him. He just nodded, face aglow.
Always a fan, first and foremost.
Or the anecdotes. His legendary hatred of the Bay City Rollers. Or the time he fell off a ladder rendering him immobile, and spent the time waiting for someone to find him by alphabetising the cassettes on the bottom row of the display.
And Breeks, sorry for buying that Brian Wilson single at a record fair that it took you another 10 years to find another copy. Only found out you were "fizzing" after reading it in The Courier…
I never got the chance to tell you.
The sun is shining, but Dundee feels darker today, the music a little quieter.
I'll miss him, we all will.
---
Former Groucho's employee Graeme Ogston now works as a journalist with BBC Scotland and plays with Dundee band Spare Snare