People of Dundee's nightlife: Vanity Nomore
---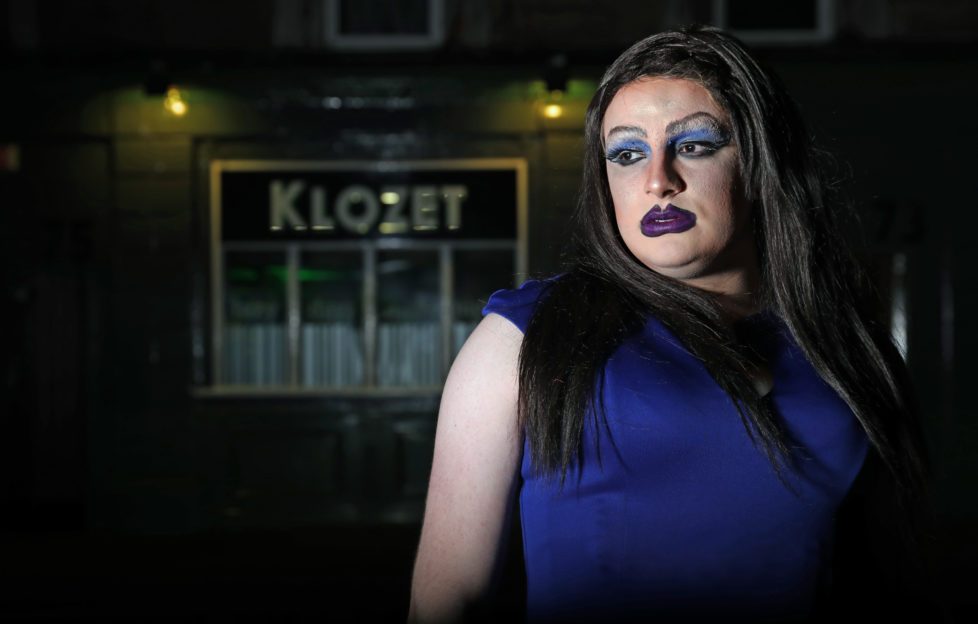 Vanity Nomore (Photo: Mhairi Edwards, DCT Media).
Jack Ross is a bubbly 22 year old from central Dundee.
By day, he's an average young buck juggling three different jobs and a bustling social calendar. By night, he transforms into the radiant Vanity Nomore, performing spirited numbers at Dundee's Klozet Bar.
Last week, SeeDundee caught up with Jack for a good ol' fashioned Q&A to find out more about the infectious Vanity, her favourite routines, and the popular bar she comes to life in.
The Inside Scoop
SeeDundee: So Jack, who or what inspired Vanity Nomore?
Jack: I was watching Ru Paul's Drag Race with a guy I really fancied at the time. I just thought, 'this is wonderful, I have to do this.' When I put my mind to something, I'm going to do it. It's that simple.
SeeDundee: How do you feel when performing in drag?
Jack: I feel an incredible sense of power and creative freedom up on that stage, doing my own thing and being my own person. I also feel safety and protection. I'm surrounded by the other queens, who are my best friends, and have been through similar circumstances to me. We just get one another. It feels like family. No. It is family.
SeeDundee: So life hasn't always been easy peasy?
Jack: I was bullied growing up for being openly gay, and the bullying still happens to this day. But drag has opened the door to me accepting who I am. It's given me the strength and power to just 'brush off the haters', which I do regularly. Like I say, other queens I work with go through it too, so we all stick together.
SeeDundee: What's Vanity's wardrobe like?
Jack: Whereas I used to spend an unnecessary amount of money on dresses, nails, wigs and makeup, I now find a lot of outfits for Vanity through local charity shop raking. All drag queens have different tastes in fashion. Some wear the huge ball gowns and styled wigs and have perfect makeup. But a drag queen is a queen even when she only shoves on a pair of heels!
SeeDundee: What's a typical drag performance like for you? 
Jack: I freestyle dance, and sometimes I live sing – for four hours every time, it can be tiring. I also love to interact with the audience by sitting on their laps or getting them up on stage. Every queen has a different style. Some start their routines by diving into forward rolls or doing the splits! I do whatever makes me feel free at the time, and I always create my own music tracks.
SeeDundee: What are drag nights like at Klozet bar?
Jack: We alternate performance nights between Wednesdays and Fridays each week, and there's a different atmosphere on each night. On Wednesdays, any drag queen from any location can take the stage and join in if they have brought along a decent track, so it's super interactive. On Fridays, its drag and karaoke night, so it's always a laugh and can get pretty loud.
SeeDundee: Who comes to watch the drag performances at Klozet?
Jack: Mostly younger women in their early twenties, but of course men do as well. I tend to attract a slightly older audience in Klozet because I live sing old school songs. Anyone is welcome to the drags nights though, and the place is always busy.
SeeDundee: What is your favourite thing about working at Klozet?
Jack: They have given me an amazing platform to showcase my art and for that I am extremely grateful. I also love the regulars, they make the night. They know me, I know them, and we end up chatting for hours. It's a really decent atmosphere to work in.
SeeDundee: Do you think drag is becoming a bigger part of Dundee's nightlife?
Jack: Absolutely. The drag queen scene has exploded in Dundee over the past year, which makes its nightlife even better. We now have three drags shows and a new talent show booking artists left right and centre. It's really positive to see.
SeeDundee: And what do you think of Dundee's nightlife in general?
Jack: Dundee's entertainment scene is on the up, because now there's more to a night out than just dancing. I enjoy being able to give people a variety with my drag performances. It makes me happy and proud to see people enjoy themselves, and everyone, including myself, has a great time. It just brings everyone together, at the end of the day.
People of Dundee's Nightlife
It was a pleasure chatting with Jack about all things Vanity Nomore and the ins and outs of drag queen culture.
To keep following SeeDundee's 'People of Dundee's Nightlife' series, click here.
Klozet Bar
Address: 73-75 Seagate, Dundee DD1 2EH
Contact: 01382 690403
Facebook: @klozet.dundee
---
Click here for more information about Klozet.
If you fancy heading along to Klozet for a drag night, contact them on Facebook to find out which day of the week the performance will be.
---
Read our second nightlife interview with quirky musician Connor Liam Byrne, here.
Follow us
Get in touch with SeeDundee on Facebook, Twitter, and Instagram.