The tale of Dundee's much-loved penguin pals
---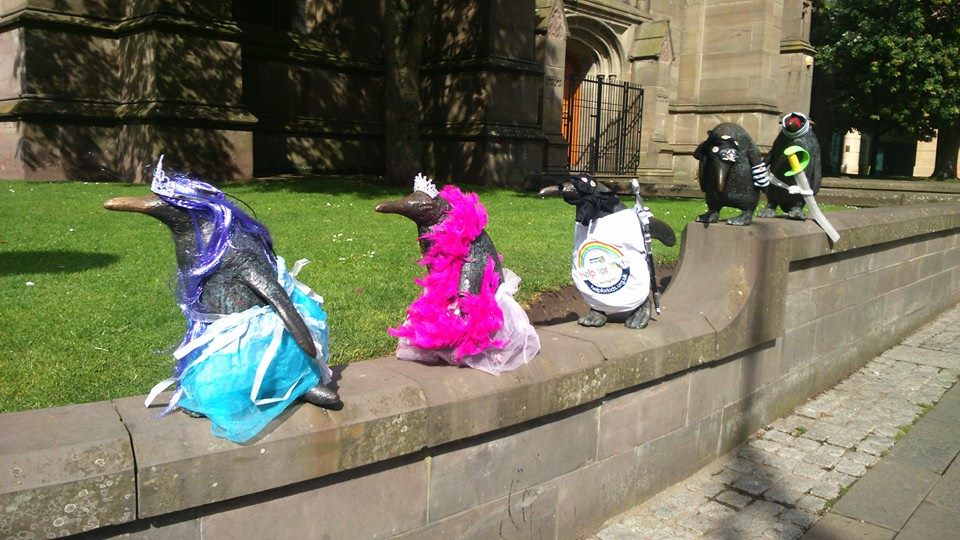 Looking dashing in their Princess and Pirate attire for a local charity event (Photo: DCT Media).
You may have noticed the five cheeky looking penguins above taking a single-file stroll on the wall at Dundee's Steeple Church.
Forever dressed up by enthusiastic members of the public for different occasions (think national holidays, charity events, graduation day, and the list goes on) these wee gems, sculpted by Angela Hunter, have become beloved favourites by many.
And you're probably thinking to yourself – Dundee seems into penguins, what with these statues and the whole Penguin Parade and all.
But why?
Dundee's penguin pals
Dundee has actually been associated with penguins for a long time – hence the group of them getting some exercise in the city centre.
You'll perhaps know a bit about the RRS Discovery, the beautiful ship now located at Dundee's waterfront.
Its first ever mission was to the British National Antarctica – which just happens to be, the home of the penguin. 
To read more about the Discovery mission, click here.
As a result of the ship's successful mission (which saw the first sighting of an emperor penguin alongside extensive scientific research) the bird has become an important symbol of our wee city's many explorers and inventors. 
Maggie's Penguin Parade
Dundee's symbolic connection with the penguin inspired the Maggie Centre's Penguin Parade, a public art event partnered with Wild in Art, which happened in summer 2018, to raise money for the incredible cancer support centre at Ninewells Hospital.
The event brought together 80 massive penguin sculptures (individually designed by local and emerging artists) to the city, all of which became part of a trail for members of the public to explore from June to September.
This trail stretched as far as Kirriemuir, Brechin, Perth and even St Andrews.
Each penguin represents something different – from Dundee's changing landscape, to its many business organisations, to its artistic influences, to its famous comic strip characters, and so much more. 
The parade also involved approximately 10,000 young pupils, teachers and carers through the Maggie Centre's learning programme and teacher resources.
These members of the community were encouraged to decorate their own baby penguins, which were showcased in the Dundee area, and even given their own map. 
The auction
The terrific art event ended on a high at Slessor Gardens in Dundee, where the penguins were lined up in preparation for a live auction at the V&A, which happened on September 24.
The auction was held by ANM Group. It hosted an audience of 300 people, and ended up raising a staggering £540,000 for charity.
Among the bidders was Judy Murray, who paid £10,000 for her penguin, Don (hers was the second highest bid of the event – the highest being £11,000).
Overall, Maggie's Penguin Parade was an exceptional charity event. We mean, the numbers speak for themselves.
---
We hope you now know a little more about why Dundee is such a penguin-loving city.
At SeeDundee, we're pretty big fans of the wee (or sometimes not so wee) things.
Follow us on socials
To keep up-to-date with SeeDundee, follow us on Facebook, Twitter, and Instagram.