The V&A Effect: Life is 'rosy' for visitor attractions in and around Dundee, and we have Kengo Kuma's masterpiece to thank for it
---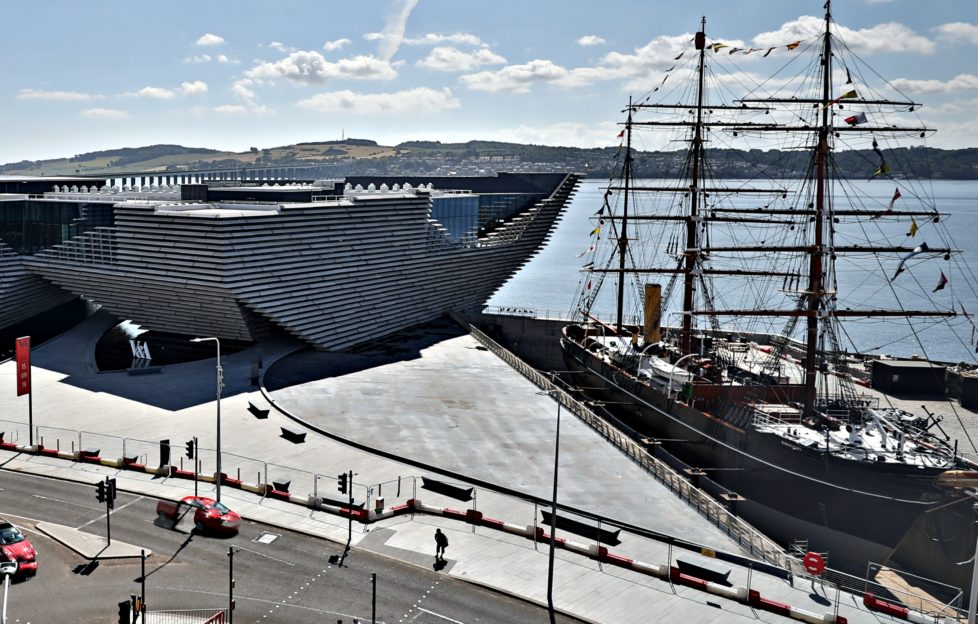 The Discovery and Discovery Point sit right beside Dundee's V&A Museum (Photo: DCT Media).
There is more great news for Dundee's tourism industry this week with confirmation that the "V&A Effect" is in full swing.
The Association of Scottish Visitor Attractions is reporting that visitor numbers are soaring in the city, and it appears to be strongly linked to the opening of V&A Dundee last September.
Discovery Point, which sits just yards from our new Kengo Kuma-designed museum, is the chief beneficiary, with visits in 2018 up by an amazing 42% compared to 2017.
But the really great news is that the V&A appears to be helping attractions outside its immediate area at Dundee waterfront.
Verdant Works in Dundee is up 21%, but numbers are also up further afield, with Arbroath Abbey (+18%) and Barry Mill (+14%) also enjoying a visitor boom.
Gordon Morrison, chief executive of ASVA said:
"Although full year figures for V&A Dundee will not be available until later in 2019, we already have an idea of the impact this world-class attraction has had in Dundee since opening. The outlook for the attractions sector in the city and surrounding area looks to be extremely rosy going forward."
Paul Jennings, executive director of Dundee Heritage Trust, which runs both Verdant Works and the RRS Discovery, said:
"Our growth in 2018 follows three years of preparation in the run up to the opening of V&A Dundee. Over that time the trust has overhauled its branding and wider marketing approach and invested over £1 million in preparing RRS Discovery and Discovery Point. It is great to see Dundee's heritage receiving such positive feedback with visitors loving the contrast between museums".

---
If you're one of those who wants to see what Dundee and the surrounding area has to offer once you've visited the V&A, SeeDundee has you covered.
V&A Dundee visitor guide: Once you've seen Kengo Kuma's masterpiece, here's where to go next
You can also browse all things V&A here.
---
Follow us
Get in touch with SeeDundee on Facebook, Twitter, and Instagram.