THIS SATURDAY: Internet sensation with nearly 2 million followers on Instagram is headed to Dundee to give Oor Wullie a scribbly makeover
---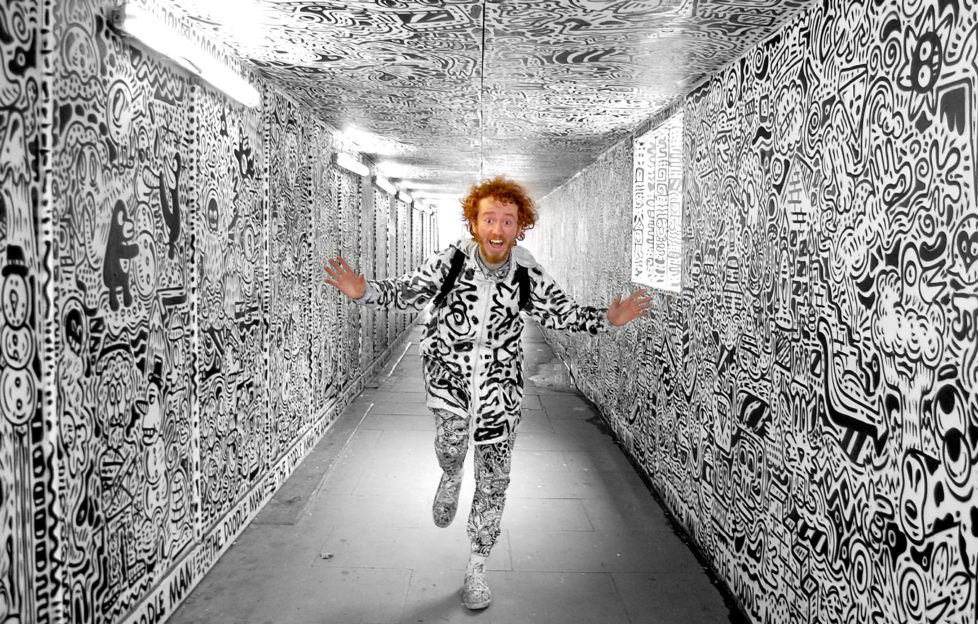 Photo: ARCHIE Foundation PR Media.
Sam Cox, known by fans as Mr Doodle, is an English artist with a self-confessed obsession with doodling.
The young talent's love of drawing from an early age has lead him to become a massive internet sensation with an impressive star-studded backing.
Mr Doodle has a whopping 1.9 million Instagram followers, including the likes of celebrities Chloe Grace Moretz and Drake Bale, who have a combined following of over 18 million.
Mr Doodle, who even created his own doodled Universe appropriately named 'DoodleLand', is set to pay a visit to our wee city, and for a very special reason too.
The artist will be at Dundee Railway Station this Sunday to draw his trademark black and swirly designs onto one of our much-loved Oor Wullie statues.
The statue will form part of this summer's Oor Wullie's BIG Bucket Trail, which raises funds for The ARCHIE Foundation.
The sculpture with a doodley twist will be one of 200 to appear across cities in Scotland, including Dundee, for 11 whole weeks in June. Mr. Doodle has said:
I am excited to be a part of this project. I love doodling over everything and to doodle over such an iconic Scottish character will be an honour and a lot of fun too. I've drawn on lots of walls, furniture and vehicles but nothing quite like this, so it will be exciting to see how Wullie looks covered in doodles!
Illustrious clients
Renowned for his thick, black patterns and unique shapes, Mr Doodle certainly has an illustrious set of clients.
He's worked with the likes of MTV, Adidas, Samsung, and Cass Art, and has travelled across the globe with his work, creating art across America, Japan, and Mexico.
When
Mr. Doodle's day of dedicated doodling kicks off at 10am, and is expected to take up to eight hours to complete.
Where
Dundee Railway Station.
So excited @the_doodle_man is coming to #Dundee to live paint this @OWBIGBucket sculpture for @archietayside THIS SATURDAY!His work is awesome & watching him create is incredible. Join us at the train station! Oor Wullie is ready to rock are you? #owbbt #foreverychild @ScotRail pic.twitter.com/2zx8Pzz1vA

— ? WhimSicAL LusH ? (@WhimSicALLusH) April 10, 2019
Follow us
Get in touch with SeeDundee on Facebook, Twitter, and Instagram.