Today marks the annual January Dook for hundreds across Dundee Tayside – Well done everybody
---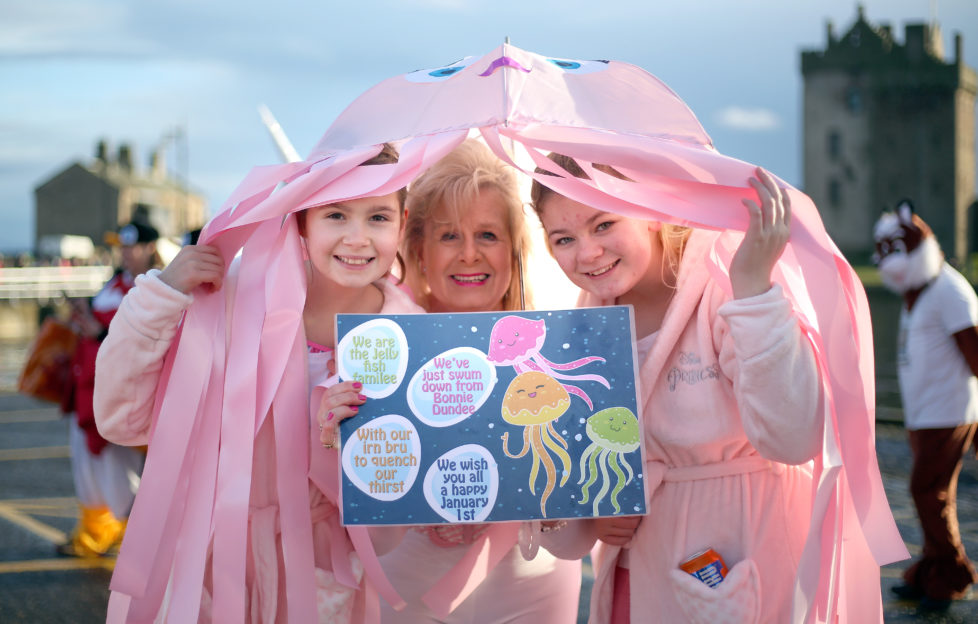 Last year many wore impressive fancy dress in aid of the annual dook (Photo: DCT Media).
Whilst you might have spent your New Years day so far watching Netflix and finishing off last night's scran (no judgement) hundreds of people across Dundee Tayside braved the Tay and North Sea this morning to raise money for important causes.
Good on you, guys! And thanks for making us look bad.
Communities from Broughty Ferry, Arbroath and Carnoustie took part in this tradition, which has gone on for over 130 years.
The frosty affair was founded and organised by the Ye Amphibious Ancients Bathing Association, who celebrate their 135th anniversary today.
More about the Dook
The dook has been held in the Ferry since 1891 and never been cancelled.
Not even in 1989, when participants had to break the ice before they could enter the water.
This year's event will have a fancy dress parade and competition, as well as a carnival throughout the day.
All participants will receive a hot drink, T-shirt, and certificate for their incredible efforts.
Featured below is some of the brave souls who welcomed 2018 with a dook in the freezing sea.
Arbroath
Also diving in today is the Arbroath Loony Dook. These participants are taking part in aid of Cancer Research.
Ryan Taylor, chairman of the Angus Cancer Research Committee, which organises the event, said:
The dook has been established for nine years. My experience of it is that when you are in the water, it is not too bad – it's once you get out and into the wind that you become a bit uncomfortable.
Carnoustie
The Dook in Carnoustie, at the seafront, is organised by the town's rugby club. Kath Edmond, one of the organisers, said:
This is our 25th year. We get about 30 to 50 people on the day. A lot of kids and a lot of our junior section go in.
Good luck to all the brave participants taking part in the @YeAABA New Year's Day Dook at Broughty Ferry Harbour! pic.twitter.com/3gFHxvsZQ8

— Thorntons Law LLP (@Thorntons_Law) January 1, 2019
Times
So when did the brave participants take their plunges?
Broughty Ferry – 11:30am.
Arbroath – 12:30pm.
Carnoustie – Noon.
Stay Tuned
For pictures and footage of the Broughty Ferry Dook 2019, stayed tuned on SeeDundee.com
And don't forget to follow us on Facebook, Twitter, and Instagram.