What makes Dundee cake from Fisher & Donaldson so darn good?
---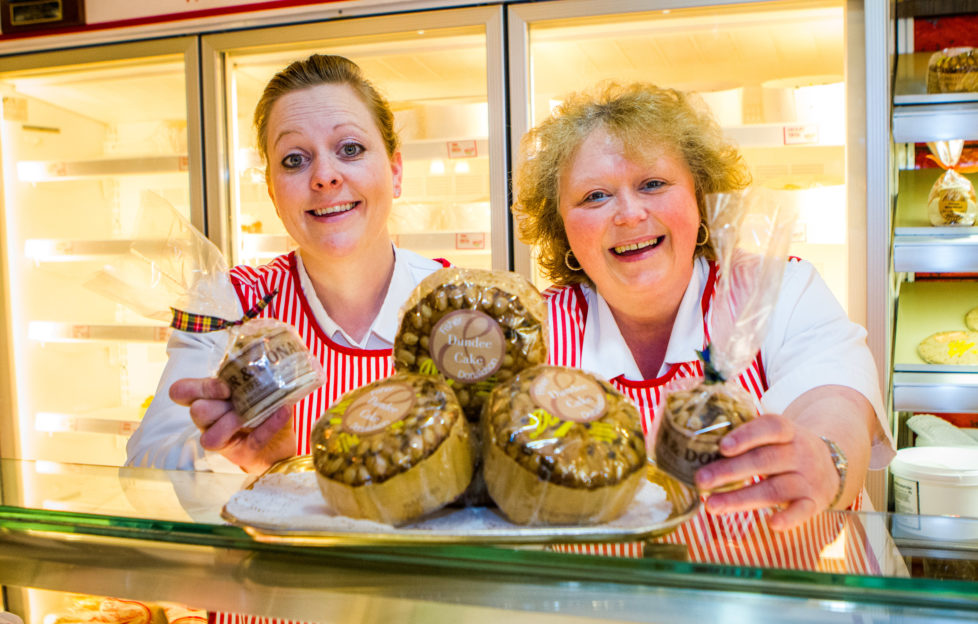 Fisher and Donaldson staff in Dundee holding the famous Dundee Cake. Left is Laura Hopkins (sales assistant) and right is Lynette Robertson (assistant manager). (Photo: DCT Media).
We spoke with Benjamin Milne (son of Fisher & Donaldson directors Eric and Sandy Milne, and production manager of the bakery) all about Britain's famous recipe.
Here's what he had to say.
---
SeeDundee: What does producing Dundee cake mean to Fisher and Donaldson?
---
Benjamin Milne: Both my Grandfather and Great Grandfather worked together to open our three shops in Dundee and produced Dundee Cake from the get-go.
I have one of my Great Grandfather's recipe books from the 50's with his Dundee cake recipe in it. The pages are yellowing and his handwriting is that beautiful scroll that only Grandparents seem to have (when did we lose that?!). I always feel a great sense of history and pride when I use it to weigh up a mix.
I personally love to bake Dundee cake, as well. I love the smell of the zesty orange and the way I always think I've weighed up too much fruit as I fold it into the batter – and then eventually all the fruit gets covered and I breathe a sigh of relief!
I am doing what my Great Grandfather, Grandfather and Dad did. We are all extremely passionate about keeping the recipe of Dundee cake alive in the city, not only because it's delicious, but because it's an inherent part of Dundee's history.
---
SeeDundee: Approximately how many people come to the Dundee store to buy Dundee cake on a weekly basis?
---
Benjamin Milne: We sell around 100 large Dundee cakes a week. We get a lot of orders from all over the country and it costs about as much to buy it as it does to send it so I can only assume we must be doing something right!
You've got me thinking now that we should make a small slice that can fit through a letterbox, so people could try it without committing to a whole round.
---
SeeDundee: What makes your Dundee cake stand out?
---
We use top quality fruit, small batch, handmade marmalade from Forfar, and we are picky about our nuts!
Probably around half the nuts in any given box are not good enough to go on our Dundee cake and every single nut is placed on the top individually by hand. We make our cake in small batches of around 30-40 at a time and we have a special oven and secret technique for baking them that keeps them from drying out.
Whilst I'm wary of giving away our secrets, I will say that our cake has the most fruit in it. There's never the risk that you will cut into it and not hit a sultana!
I'm very happy to be at the top end of the market making a premium product and not being forced to cheapen my product down with less fruit and cheaper ingredients.
---
We hope you enjoyed our wee two-part piece on Dundee cake.
Now, get along to Fisher and Donaldson and sample the fruity dessert.
Follow us on socials
To keep up-to-date with SeeDundee, follow us on Facebook, Twitter, and Instagram.