Explore Dundee's nooks and crannies through its OpenClose tour
---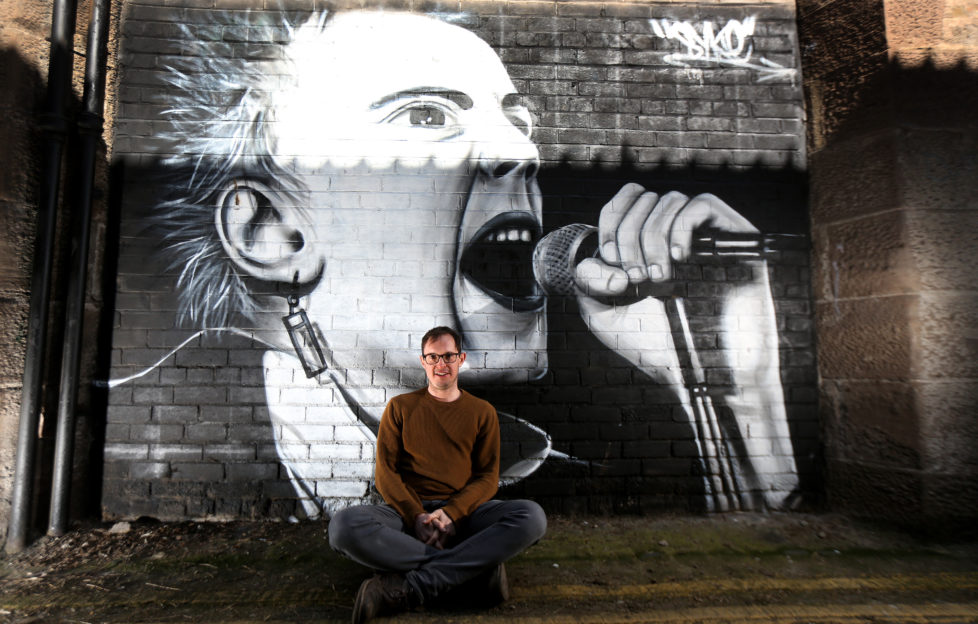 The man behind it all. Russell Pepper, posing in front of the city's stunning 'free wall' - keep reading for more info (Photo: DCT Media).
Have you heard about Dundee's incredible Open/Close graffiti trail yet?
If you haven't, prepare to be stunned.
Open your eyes to Dundee's closed spaces
The innovative OpenClose project consists of a series of street art dotted across Dundee.
The brains behind the project is PHD student Russell Pepper, who wanted to bring bold and beautiful street art to hidden, undervalued areas of the city. 
It all began with a trail of 19 painted doors in lanes and alleyways – all of which were beautifully painted by a small set of enthusiastic local artists. Soon, many more artists were volunteering to give Dundee a skilful makeover.
Two trails
Follow the map(s) provided by Open/Close, and go on an adventure through the city, experiencing one mural at a time. It's a guided tour, so you will get expert information from Pepper himself.
Due to the popularity of the City Centre trail, the project expanded outwards to Stobswell, which now also has a trail for visitors and locals alike to enjoy. So you can do either, or even both. 
Remember, trails are free of charge. Maps are a modest £1, and any donations to the project are graciously accepted.
Mary Ann Lane 
Thanks to Pepper's artistic initiative, Mary Ann Lane in Dundee (located near the city's bus station) has been officially designated as a 'free wall' for graffiti artists to showcase their talent.
Artists rock up to the mural whenever they're feeling up to it, all set to imprint their work onto what is now such an aesthetic part of the city. Go check it out.
Find out more
To find out more about what inspired Pepper to start the OpenClose project, the artists behind the murals, and lots more, check out the footage below, which was created by Jon Gill and originally shown at the DCA.
Stay tuned on SeeDundee for more articles like this.
Follow us on socials
To keep up-to-date with SeeDundee, follow us on Facebook, Twitter, and Instagram.