Here be dragons! The story behind Dundee's famous dragon statue
---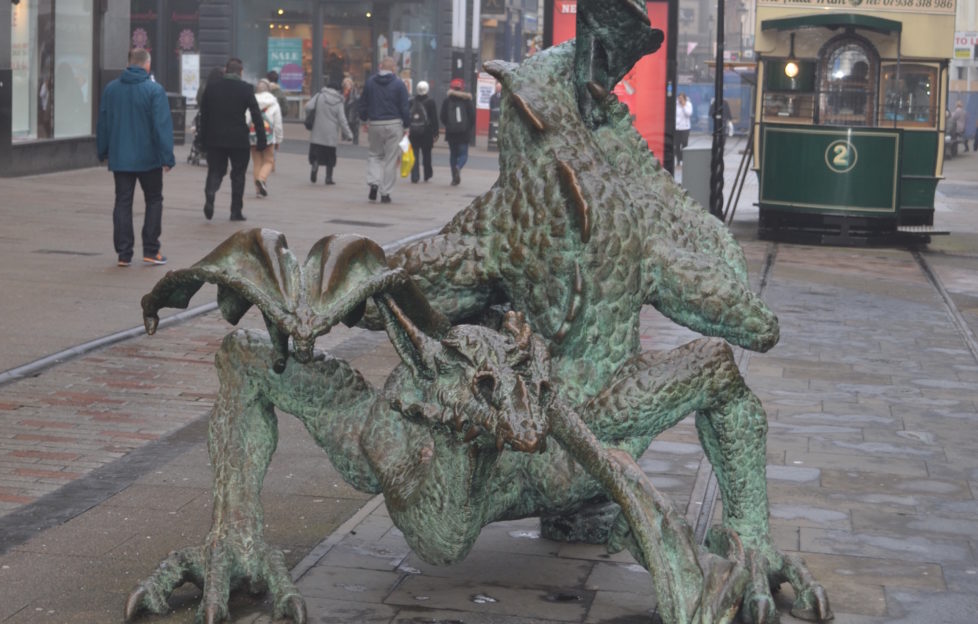 When shopping in Dundee's City Centre, you're sure to encounter a green, scaly beast wandering the Murraygate. Dundee's dragon statue has been a favourite climbing spot for children for years – evidenced by the bronzing across his wings and tail.
Dundee's link to dragons goes much deeper than the city centre statue. Have you ever noticed the dragons on the Dundee coat of arms? Or the dragon on top of the spire at St. Andrews Church? An old Dundee folk tale can explain the city's apparent love for dragons…
A farmer lived in the village of Pitempton with his nine daughters. One day, he asked the eldest to go and fetch some water from the well. When she didn't return, he sent another after her. As each daughter left and never returned, he sent another in her stead until it was getting late and the farmer found none of his daughters had come home. Worried, he traced their steps and when he reached the well he was met with a gory sight: an enormous dragon was sleeping soundly, surrounded by the gruesome remains of his nine daughters.
Devastated, the farmer fled back to the village where he told his youngest daughter's lover, Martin, what had happened. Martin was furious and raised a mob of villagers to kill the dragon. They pursued the beast across the land, and when they finally came close the villagers shouted, "Strike, Martin!", which is said to be the root of the name 'Strathmartine'.
Martin's strike severely wounded the dragon and he slew the beast in a field at the foot of what is now Craigowl Hill. A surviving rhyme details the dying words of the dragon:
'Tempted at Pitempton
Draigled at Baldragon
Stricken at Strathmartine
And killed at Martin's Stane'
It's said that a stone was placed at the spot where the dragon fell to commemorate Martin's victory, and you can see it to this day. If you head north out of Bridgefoot you'll find a 6th century Pictish stone surrounded by protective railings in the middle of a field. The stone – though worn with age – seems to depict a man on horseback fighting a snake-like figure.
If you're ever out walking in the countryside near Strathmartine, give Martin's Stone a visit, and keep your eyes peeled for hidden dragons in Dundee City Centre!