These videos and pictures from Dundee's Summer Streets Festival will make you wish it was still on
---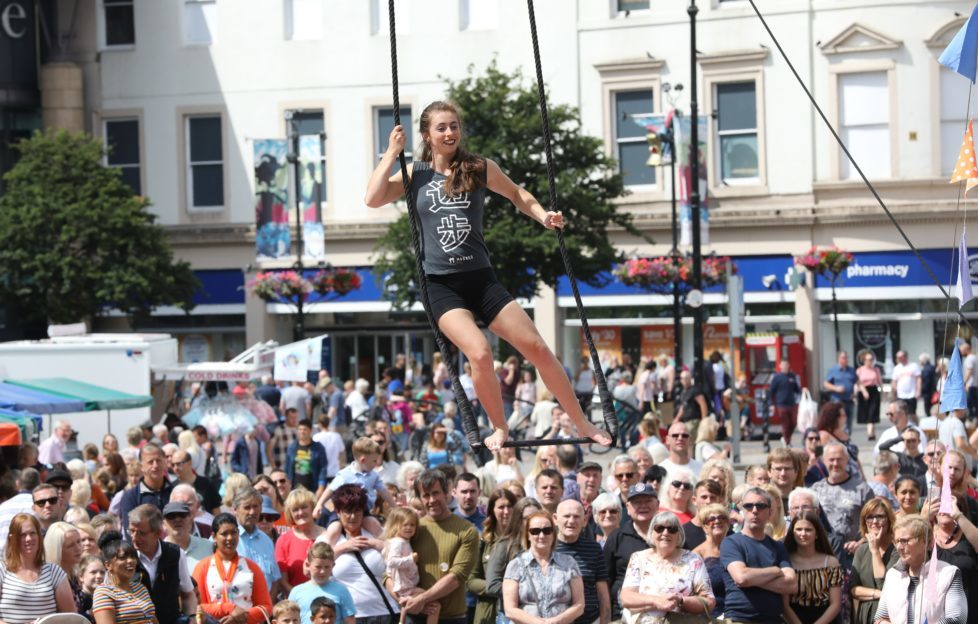 "All or Nothing " acrobats entertain the crowds on Saturday.
Dundee's first ever summer street festival got off to a flying start as the city centre was buzzing with activity.
As a way of welcoming visitors ahead of The Open, the city square, Reform Street and Albert Square were all bustling with lots of entertainment, games and activities.
That's a wrap for this year's Dundee Summer Streets Festival!

Thank you so much to all the performers, staff, volunteers, sponsors and audiences who made it possible! #Dundeesummerstreets pic.twitter.com/42N5W2EoK2

— Dundee City Council (@DundeeCouncil) July 23, 2018
What a way to make the most of the sunny weather!
We've put together a list of the best moments for you to look back on below:
We even did a live feed on Facebook as things were starting to kick-off on the Saturday.
We're here at Dundee's first ever Summer Street Festival! ?

Posted by SeeDundee on Saturday, 21 July 2018
---
Surge streets performers were spotted throughout the festival
Performers were dotted around doing lots of funny, amazing and even scary things.
Like this dance…
WaggleDance in Dunbee… I mean Dundee #DundeeSummerStreets pic.twitter.com/363v7aSfKr

— Surge (@SurgeScotland) July 21, 2018
Or this super-creepy puppet!
Bad baby! Stop terrifying Dundee! #DundeeSummerStreets pic.twitter.com/vFCjkcFsSB

— Surge (@SurgeScotland) July 21, 2018
---
The Open inspired some budding wee golfers
With The Open going on just up the road, a specially-designed mini-golf course was laid out along the length of Reform Street for people to try out.
There were many iconic Dundee sites you had to get around, including the V&A.
---
'All or Nothing' performed breath-taking aerial acrobatics
The aerial dance theatre group performed above crowds at the city square using swings and drapes to perform.
There were also sessions for the public to try too.
---
Lots of tasty grub going around – yum!
The popular Dundee Farmers Market also returned, with the city centre filled with a fusion of different food scents.
Food and drink from the local area was available to taste and to buy.
For its Dundee debut, the Summer Streets festival was a great event that made the city centre feel even more lively and enjoyable to be in.
For even more posts about #DundeeSummerStreets head over to Twitter and Instagram.
---
If you'd like to see more great content like this, follow us on Facebook, Twitter and Instagram.